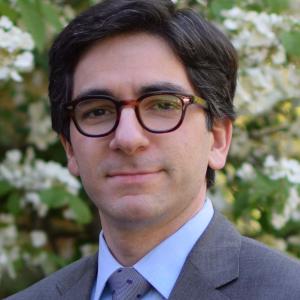 Friday, September 17, 2021 | 4:00 PM
Freedman Center, Kelvin Smith Library
followed by Music Library Welcome Reception
"Pierre de la Rue, the Liturgical Year, and the Missa Ave Maria in the Mechelen Choirbook"
About the Talk: In Pierre de la Rue and Musical Life at the Habsburg-Burgundian Court (2003), Honey Meconi includes a short but highly suggestive discussion of the liturgical function of La Rue's works wherein she posits a model for how La Rue's extensive sacred output, unique in its time for using predominantly sacred compositional models, could have been deployed within the annual liturgy of the court's grand chapelle. This talk expands upon Meconi's discussion, suggesting that the clear liturgical structuring of La Rue's sacred output may indicate a carefully planned large-scale project for Margaret of Austria's Habsburg-Burgundian chapel, even though no record of such planning survives. The only comparable—indeed much larger—collection of liturgically structured polyphony by a single composer is that produced by Heinrich Isaac for the Hofkapelle of Emperor Maximilian I, Margaret's father. Though Isaac's collection consists primarily of mass propers and La Rue's of mass ordinaries, both take a similar approach to the festal, seasonal, and votive celebrations of the liturgical year. There is, moreover, significant cross-dissemination of works by La Rue and Isaac in imperial and Habsburg-Burgundian sources. One can reasonably suppose, therefore, that Margaret's and Maximilian's chapels were engaging in parallel large-scale polyphonic liturgical projects.
This presentation celebrates the recent acquisition by Kelvin Smith Library's Special Collections division of a deluxe replica facsimile of the Mechelen Choirbook that was published by the Alamire Foundation in coordination with the celebration of the quincentenary of Pierre de la Rue's death in 2018. In addition to making the argument outlined above, it will examine La Rue's Missa Ave Maria as it appears in the Mechelen Choirbook and will conclude with a live performance of part of the mass sung directly from the facsimile edition, which will be on display.
The event also serves to welcome patrons of the Kulas Music Library to its new home on the first floor of Kelvin Smith Library, just outside the Freedman Center, where it was relocated during the summer of 2020 when the COVID-19 pandemic made a welcome gathering impossible. 
---
Music colloquia provide a weekly forum for presentation and discussion on recent research by distinguished visitors and CWRU faculty and graduate students in musicology, historical performance practice, and music education. 
All talks take place in Harkness Chapel Classroom, Fridays at 4 PM (unless otherwise indicated). The series is free and open to the public.