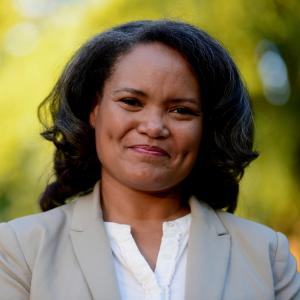 Friday, October 22, 2021, 4:00 PM
Harkness Chapel, Classroom
Ayana Smith
(Indiana University)
"Handel's Giulio Cesare and the Complexities of Early Modern (and Modern) Identity" 
About the Speaker
Ayana Smith is an associate professor at Indiana University's Jacobs School of Music, with research areas in seventeenth-century Italian opera and African-American music. In fall 2020, with funding from IU's Racial Justice Research Fund, she founded "Creating Real Change," a collaborative research laboratory devoted to telling more inclusive narratives in music history while creating resources for scholars and instructors.
About the Talk 
Her presentation titled "Handel's Giulio Cesare and the Complexities of Early Modern (and Modern) Identity" is one of several projects emerging from the "Creating Real Change" laboratory. In this presentation, Prof. Smith will draw on early modern theories of perception to analyze ways in which Handel's audiences may have "seen" and "heard" Cleopatra, while proposing new frameworks that engage with the complexities of race and representation in baroque opera.
---
Music colloquia provide a weekly forum for presentation and discussion on recent research by distinguished visitors and CWRU faculty and graduate students in musicology, historical performance practice, and music education. 
All talks take place in Harkness Chapel Classroom, Fridays at 4 PM (unless otherwise indicated). The series is free and open to the public.