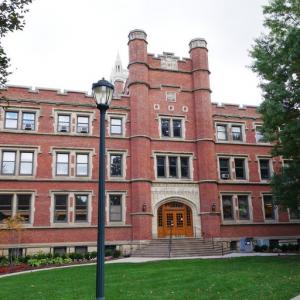 August 20-21, 2020 - 9:00 am - 5:00 pm
All new and continuing graduate students are expected to attend. All Department of Music sessions will be held remotely. Students who have extenuating circumstances should contact their program coordinator no later than August 10, 2020 (see below).
Music Graduate Student Orientation Schedule
All communication will be sent to your Case Western Reserve University email address, check your <@case.edu> email account often. Also, please familiarize yourself with the Academics section of our website.
Outlined in the College of Arts & Sciences email to graduate students:
Several required training videos will be available from August 3-7. Students will be sent the links as soon as they are ready. Please view each of the general re-entry videos in addition to the specific videos relevant for the work that you do.
Two Q+A Sessions will be held on Zoom. You must attend one of these sessions: Wed. Aug. 12 (3-4 PM) or Thu. Aug 13 (10-11 AM). Associate Dean Lee Thompson will attend as the representative from the College of Arts & Sciences. You will receive the links to these sessions as soon as they are available.
Ohio Travel Advisory and Out-of-State Graduate/Professional Students
CWRU and the College of Arts and Sciences (CAS) adhere to the State of Ohio's most current mandates and advisory in regards to our efforts to protect the health of everyone on our campus. Of particular importance is the advisory issued on July 22 by Governor DeWine recommending that domestic travelers who have been in states with high positive testing rates for COVID-19 should self-quarantine for 14 days upon entering Ohio. A state is recognized as a high travel risk when the "positivity rate" of that state reaches or exceeds 15.0%.
The list of states will be updated every week on Wednesday. Base on a 7-day rolling average of positive rates of July 29, the affected states are:
Mississippi (MS), 23.1%
Arizona (AZ), 20.7%
Florida (FL), 19.0%
Alabama (AL), 18.5%
Idaho (ID), 17.4%
Kansas (KS), 16.3%
South Carolina (SC), 15.0%
As faculty, staff, and graduate students return to campus from out of state to begin the fall semester, adherence to the state's advisory will be an important part of the re-entry process. In terms of the 14-day quarantine, it has been determined that our Graduate Program Coordinators/Heads will need to work with graduate/professional students to ensure they are coming to quarantine in Ohio 14 days prior to courses starting. This early arrival is particularly important for those graduate students who will be working as TAs in fall semester. In cases where early arrival is not possible, plans for a brief on-line period will need to be determined for students to meet the 14-day quarantine standard. On a case-by-case basis, individual students and their program coordinators will need to determine how best to comply with the state's advisory.
All graduate/professional students should be in touch with the graduate coordinator of their program prior to August 10. 
Historical Performance Practice
Dr. Peter Bennett, Associate Professor | Head of Historical Performance Practice
peter.bennett@case.edu
Musicology
Dr. Francesca Brittan, Associate Professor | Coordinator of Graduate Studies in Musicology
francesca.brittan@case.edu
Music Education
Dr. Lisa Huisman Koops, Professor | Head of Music Education | Coordinator of Graduate Studies in Music Education
lisa.koops@case.edu