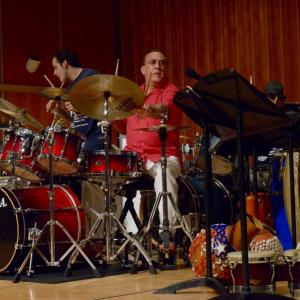 Friday, July 15, 2022, 7:00 PM
Harkness Chapel (11200 Bellflower Road)
Free and open to the public
Featuring The Roberto Ocasio Foundation Latin Jazz Camp camp students, faculty, and guest artists directed by world-renowned Bobby Sanabria!
Can't be there in person? Join us by livestream at https://case.edu/livestream/harkness.
Fulfilling its mission to community, The Foundation produces a popular free public Latin Jazz Concert associated with the Camp, which includes the genre's most illustrative and historically significant songs performed by Camp students, faculty, and guests and directed by Artistic Director/Artist-In-Residence, Bobby Sanabria, seven-time Grammy® nominee and world-renowned Latin jazz performer and educator. The concert repertoire not only teaches the students but also educates and entertains a big audience from all cultures and parts of Greater Cleveland as well as other communities within and outside of Ohio.
---
Individuals attending Case Western Reserve University events are expected to be fully vaccinated, including booster if eligible. The CDC suggests wearing a mask in public places where there are a lot of people around. We support anyone who wishes to follow that recommendation, and maintain our requirement that individuals in instructional settings continue to wear masks. Please remember that those with COVID-19 symptoms should stay home. 
University leaders continue to monitor pandemic developments and will adjust health protocols as circumstances warrant. Learn more about CWRU's COVID-19 response.