Congratulations to the winners of the 2022-23 Joan Terr Ronis Annual Memorial Recital Prize! Ruth Cavano, double bass and Caleb Owens, piano earned this honor by demonstrating exceptional musicianship in their spring jury auditions, which were evaluated by a panel of faculty members. Compliments to our many wonderful performers and a special thank you to our staff accompanists, Alicja Basinska and Anne Wilson.  
As co-winners of the prize, both students will receive a monetary award and be honored at the undergraduate awards ceremony in the spring of 2023. More importantly, Ruth and Caleb will jointly perform the Ronis Memorial Recital in Harkness Chapel on Sunday, October 30, 2022. If conditions do not allow an in-person recital at that time, we will explore other options to showcase their wonderful talents.
Ruth Cavano, double bass
(Kathleen Horvath)
Ruth Cavano is a fourth-year music education major at CWRU. She plays in a variety of styles, and at CWRU she has performed with the Symphony Orchestra, Symphonic Winds, Camerata String Orchestra, Jazz Ensembles, Case Men's Glee Club, and in numerous pit orchestras and chamber groups. In high school, she played with the San Francisco Symphony Youth Orchestra led by Christian Reif. She joined them on their 2019 European tour which featured concerts in Copenhagen, Odense, Hamburg, Berlin, Vienna, and Budapest. Last summer, Ruth played at the Sewanee Summer Music Festival, where she held the position of principal double bass under Jo Ann Falletta. She will return to Sewanee this summer to continue developing her musicianship.
Her passion for music education began when her high school orchestra teacher, Tristan Arnold, gave her the opportunity to conduct in a concert. At CWRU, Ruth was granted the Pat Ciricillo Music Education Scholarship. She teaches private lessons on cello, piano, and double bass. 
Ruth serves as president for the CWRU Footlighters, and she pit directed their most recent musical Death Takes a Holiday. When she isn't making music, she enjoys cooking and being outdoors. Ruth would like to thank her private instructor, Dr. Kathleen Horvath, for continuing to inspire her as both a performer and an educator. 
Caleb Owens, piano
(Gerardo Teissonnière)
Caleb Owens is a fourth-year music and mathematics major at CWRU. He has studied classical piano for 16 years and is an eight-time state champion in the Mississippi Music Teachers Association Pre-College Solo Piano Finals. Caleb also won gold in the 2017 and 2020 MTNA Senior Piano competitions in Mississippi. More recently, he studied piano at the Rocky Ridge Music Center in Estes Park, Colorado in 2021 and will study piano at the Chautauqua Institution in Chautauqua, New York this summer. 
Outside of music, Caleb enjoys cooking, playing volleyball, and studying Spanish. Caleb is grateful to Gerardo Teissonnière, his teacher at the Cleveland Institute of Music through the Joint Music Program with CWRU, and to his family and instructors back home for their cultivation of his passion for classical music and unwavering support of his musical endeavors. 
---
About the Recital Prize
Leonard Ronis established the Joan Terr Ronis Recital Prize in 1996 as a memorial to his wife, the well-known Cleveland piano soloist, chamber music artist and teacher. The prize and recital are presented after a competition held each spring among undergraduate music students attending CWRU. Mr. Ronis, a lifelong supporter of CWRU and the arts, was nationally known for his role in public transit. With his passing on July 4, 2012, the family requested that the prize be renamed the Leonard and Joan Terr Ronis Memorial Recital Prize. The prize returned to its original name during the summer of 2020.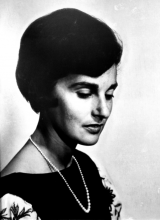 Photo Credit: Lauryn Ronis
Joan Terr Ronis
---
Previous winners:
2021-22 | Julia Feng-Bahns (piano), Harue Suzuki (flute)
2020-21 | Dana D'Orlando (oboe), Allison Siekmann (violin)
2019-20 | Diane Jo (violin), Karen Ji (piano)
2018-19 | Devin Reddy (horn), Jason Linn (trombone)
2017-18 | William Spallino (trombone), Madeline Yankell (soprano)
2016-17 | Rebecca Pfeiffer (trumpet), Vincenzo Volpe (flute)
2015-16 | Ryan Rose (saxophone), Ruolin Yang (violin)
2014-15 | Sydney Vereb (flute), Jeff Einhaus (tuba)
2013-14 | Lok Lei (violin), Nicholas Valentas (percussion)
2012-13 | Frankie Delgado (bassoon), Nathan Budge (euphonium)
2011-12 | Francis Blackman (voice), Dora Wu (violin)
2010-11 | Alyssa Hoffert (saxophone)
2009-10 | Karl Beheim (clarinet)