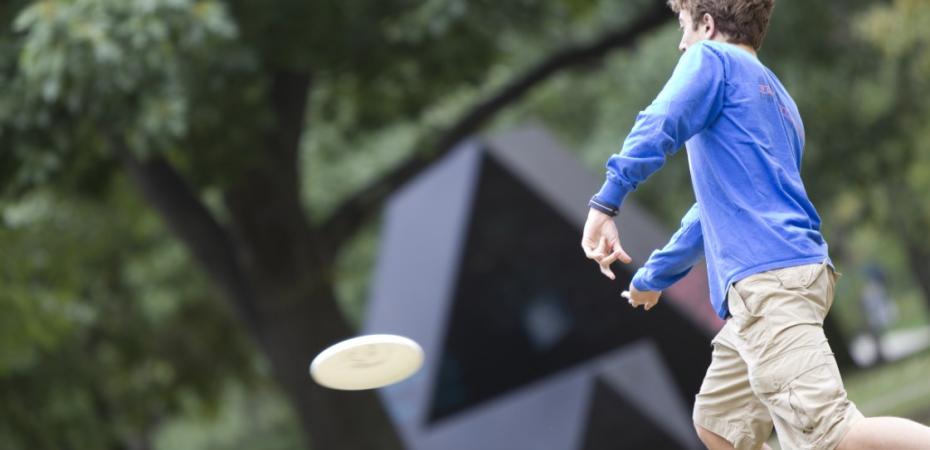 Athletic Facilities
Postdocs are able to gain FREE access to the following athletic facilities: the Veale Convocation, Recreation and Athletic Center as well as the Wyant Athletic and Wellness Center. You simply need to provide your CWRU photo ID to gain admission. 
* Spouses/partners or legal dependents of our postdocs can pay for a membership to Veale or Wyant. See membership info and pricing.
If you are someone who likes to take fitness classes (yoga, pilates, kick-boxing, etc.), you may want to join One to One Fitness, which charges a membership fee. 
The Veale Convocation, Recreation and Athletic Center (2138 Adelbert Road, Cleveland, OH 44106) is the home of CWRU athletics, physical education and intramural programs. The Veale Center houses:
four multi-purpose courts (which are frequently used for activities such as basketball, tennis, soccer and volleyball)
a six-lane indoor track (8 laps = 1 mile)
a multipurpose aerobics room
a cardio exercise room (with treadmills, elliptical trainers, rowing machines, a gravitron and stationary bikes)
a newly renovated weight room (three separate rooms, main, power lift and hammer strength)
nine racquetball courts
two squash courts
a rock climbing wall
Horsburgh Gym (used for basketball, volleyball and wrestling)
Veale Natatorium and Donnell Pool
The Wyant Athletic and Wellness Center (1610 East 118th Street, Cleveland, OH 44106) is  part of the North Campus Residential Village and Athletic Complex, and is adjacent to the parking lot #46, where many postdocs are assigned to on-campus parking. The facility includes:
Varsity Weight Room 
Fitness Center – A 4,200-square foot cardio workout facility.
One to One Fitness (2130 Adelbert Road, Cleveland, OH 44106) is another gym you can join - for a monthly membership fee. They have group exercise classes, as well as one-on-one personal training opportunities and childcare options.
---
Intramural Sports
Anyone with a CWRU ID is eligible to participate in intramural sports! The goal is to provide a fun, structures environment while focusing on health, safety, and developmental needs of participants of all skill levels and interests. 
See the CWRU Athletics page or IMleagues.com for more details. Anne Kennedy, axk1499@case.edu manages the intramural sports program. 
Some available sports include:
indoor & outdoor soccer
softball
tabletop foosball
tennis (singles and doubles)
flag football
basketball
volleyball
battleship
dodgeball
pickleball
squash
racquetball
swimming (singles and teams)
inner tube water polo
badminton