Kudos!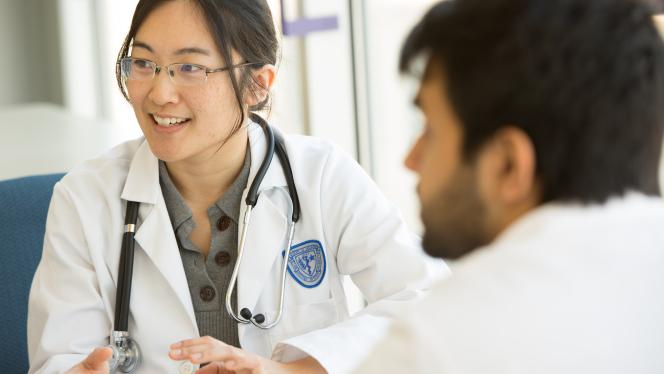 Did you win an award, receive a fellowship or grant, get published, are you presenting at a conference, got hired for a new position? Fill out this form so we can share your accomplishments on our social media or in the Daily!
Non-Academic Career Series
The Postdoc Non-Academic Career Series, hosted by the CWRU PDA, is meant to introduce alternative career paths following your postdoc.
Quick Links
---
Individual Development Plan
Individual Development Plans (IDPs) provide a planning process that identifies both professional development needs and career objectives. Furthermore, IDPs serve as a communication tool between individuals and their mentors.
IDPs include long-term career options one wishes to pursue and the necessary tools to meet these, and short-term needs to improve current performance. IDPs are an important part of postdoctoral mentoring, and summaries of trainee experiences provide information to training grant reviewers.
The recommended method for completing the IDP is myIDP (for science careers, for other careers, see below). myIDP is a unique, web-based career-planning tool tailored to meet the needs of PhD students and postdocs in the sciences.
An IDP is typically completed within your first 3 months as a postdoc at CWRU, but can be done anytime. This is a living, breathing document for you to continuously update and revise as your goals and research objectives change.
CWRU School of Medicine requires an IDP from postdocs within the first 3 months of employment. 
Online IDPs:
Paper Template Option:
PowerPoint Presentation for reference/guidance:
Values Assessment
We suggest you take the Values Assessment from ImaginePhD to determine what values are most and least important values to you. And realize these change over time as our personal and professional life priorities change. Tee assessment can help you determine what to look for in a job to ensure it fits with your most important values. 
---
Beyond the Professoriate
Beyond the Professoriate is a professional development e-learning platform. Choose Case Western Reserve University and login using your CWRU Network ID and password. 
Job search and knowing your options
Evaluating your opportunities in research
Career exploration video library
What every STEM trainee needs to know about applying for postdocs
Faculty job search (humanities and social sciences; STEM and Biological Life Sciences)
Informational interviewing and networking
---
LinkedIn Learning
LinkedIn Learning is free for CWRU postdocs! Login using your CWRU Network ID and password. 
The site offers self-paced video courses; each training video is delivered in convenient 2-5 minute segments. These video-based tutorials are taught by industry experts and available 24/7 for convenient, self-paced learning. New courses are added every week, so be sure to check back often. 
---
Career Opportunities for Trainees Series (COTS)
The Case Western Reserve School of Medicine sponsors this professional development series, which is designed to introduce trainees to the array of career paths that are available to PhD biomedical researchers. Local, regional, and national leaders as speakers or panel discussants will be invited to present each semester. Presentations will include information on the speaker's career trajectory, their daily activities, and a description of additional training necessary for entering each career. Major advantages and disadvantages of the career choice will also be discussed. For more information, contact som-GEO@case.edu.
---
Register Your ORCiD
Obtaining an ORCiD (short for Open Researcher and Contributor ID) allows you as a researcher to reliably and unambiguously connect your name with your work throughout your career, including your published papers, research data, institutional affiliations, or work history.  Having an ORCiD helps you as a researcher by:
Providing a means to distinguish between you and other authors with identical or similar names.
Linking together all of your works even if you have used different names over the course of your career.
Making it easy for others (grant funders, other researchers, etc.) to find your research output.
Ensuring that your work is clearly attributed to you
ORCiD is a non-proprietary, non-profit, global, community-based registry of research identifiers and is widely used by research institutions, funders, and publishers.
ORCID IDs are universally recognized and not tied to any specific database or publisher
ORCID enables authors to unambiguously link their name to all their scholarly outputs - articles, data, presentations, etc.
ORCID enables institutions to accurately know what their affiliated authors are creating
ORCID allows authors to control what information is shared in their ORCID profile. Only the ORCID ID is automatically shared.
ORCID makes it easy to import research output from other sources and integrates with systems of many scholarly publishers, research funders, and organizations.
Obtain your ORCiD
Registering is free, privacy-protected, and quick. Go to ORCID's registration page. Once you have the ID, add your CWRU email address to ensure your ID is linked to CWRU as an institution.
Build and manage your ORCiD profile
You also have the option to build your profile through the "import works" button, associating your papers, data sets, and other research output with your ID. You can then include the ID as a link on your CV or web page.
Use your ORCiD whenever you publish or apply for research grants. Many scholarly publishers integrate ORCiDs into their manuscript submission processes, saving authors time during the submission process and enabling automatic updating of author bibliographies when articles are published. Grant funders often require ORCiDs to streamline the application process.
---
Postgraduate Audit Program
The Postgraduate Audit Program is available to individuals who hold MD, ND, DDS, or PhD degrees and are in training positions in CWRU research or clinical programs. Auditors pay only 10% of regular graduate tuition, plus the cost of books and materials. Auditors will not receive a grade or course credit, but the audited course will appear on a CWRU non-degree transcript.
For more information about taking a class via the Postgrad Audit Program, click here. 
---
Order CWRU Business Cards
FedEx in Thwing offers CWRU-branded business cards at an affordable price. 
Expand Order Print and click Order CWRU Products
Click Credit Card Payment
Click Business Cards
Click on your school or Standard
Click Business Card - Non Academic
Select Quantity (and see pricing)
Fill in your information
Click Preview
Click Next
View your Order and click Add To Cart
Click Check Out
Fill in your information, click Continue Checkout
Fill in your delivery information on campus (be sure to include a specific office number), click Continue Checkout
Enter your email address and phone number. Enter your credit card information, click Complete Checkout
---
CWRU School of Medicine Professional Development Video Seminars
Not only for postdocs in the School of Medicine, most of these skills can be translated to any discipline. The videos are posted on their YouTube Channel.
Some of the videos include:
---
Career Series Talks
Both the CWRU PDA and the Graduate Education Office offer Career Series talks via Zoom for speakers to share their journey, suggest specific professional development, discuss their current role, and offer advice for someone looking into that career path.
View some of the previous PDA Career Series recordings here
View the SOM Career Series talks here
---
Google Scholar
Online professional profiles constitute easy ways to share and showcase your work and represent a great way to increase your visibility and discoverability. Due to its popularity as a research tool, Google Scholar represents an excellent platform to promote your work. Built on the vast Google data, Google Scholar indexes literature regardless of the source. A Google Scholar Profile ensures that all the publications are brought together and correctly assigned to the right author(s), as well as keeps track of citation numbers.
Set up your Google Scholar profile
* Be sure to complete your name, affiliation, and email address at this time. We recommend that you use your Case Western Reserve University email address and authorize Google Scholar to display your affiliation.
Go to scholar.google.com and (if you are not already logged in) click "sign in" in the upper right corner. Sign in using your CWRU credentials, then click on "my profile" in the upper left hand corner to get started.
Google Scholar will present you with a list of publications that include your name as author. Some may be yours, and some may not be, especially if you have a common name. If you are a prolific author, or if you have a very common name, there may be many publications to review the first time you set up your profile. If there are publications that don't belong to you, click the check box beside each and then click "delete." This will remove the record for that item from your profile. If Google has identified multiple records that are really referring to the same work, you can click the checkbox next to all records that refer to the same work and click "merge."

Now you'll be given two decisions to make:

Do you want Google Scholar to automatically add your publications to your profile as it finds them (without you having to do anything), or do you want it to send you an email with publications to review before they appear on your profile? This is up to you, and you can change it later if you wish.

Do you want your profile to be public? If you check the box to make it public, you'll be more "Googleable" by others. 

Click "Follow" in the upper right hand corner of your profile page to receive email alerts for any new publications associated with you, as well as new citations of your work. (Tip: you can "follow" new publications and new citations for any researcher with a public Google Scholar profile, not just yourself).

Enhance your profile by adding co-authors: click "Edit" next to "Co-authors" on the right-hand side of your profile page.
---
CWRU Career Center
Post-Graduate Planning and Experiential Education is committed to offering a variety of services from major exploration tools to individualized career counseling sessions, resume critiques, mock interviews, and Career Fairs.
---
Academic Impressions
"At Academic Impressions, we are focused solely on providing leadership, personal development, and skills-based training opportunities to faculty and staff in higher ed. We help individuals, teams, and institutions across the US and Canada build upon their knowledge and expertise to reach new levels and find practical solutions to the challenges they are facing."
Visit Academic Impressions to explore all their resources
---
EnRICH (Enhancing Research and Industry Career Horizons)
The EnRICH program provides career guidance and support to masters and doctoral students [and postdocs] pursuing biomedical science degrees while simultaneously developing partnerships with companies, organizations and mentors who recognize the skills of such students. During paid or non-paid, short-term exposure or long-term work experiences with employers/mentors, masters and doctoral students explore future career opportunities, and giving employers the opportunity to network with and mentor talented and highly skilled students, further developing the talent pipeline for their organization.
---
Venture Mentor Program
The CWRU Venture Mentor Program (CVMP) is housed within the Clinical and Translational Science Collaborative (CTSC) as part of the Translational Endeavors Component, to provide a broad base for expansion and inclusion. The CVMP provides team mentoring to our young faculty, students, and staff from a pool of local experts with a wide range of experiences and industry expertise. Their approaches have resulted in many successful ventures, and demonstrate that mentoring works best in a conflict-free and confidential environment.
Mission: To provide CWRU researchers with unbiased, confidential business advice in a safe and conflict-free environment, in order to help develop, inspire and empower their pursuit of commercial opportunities in the biomedical space. To provide more opportunities for getting technologies out of the lab and into patients. To increase the value of the researcher and the venture.
---
CWRU Translational Fellows Program
The CWRU Translational Fellow Program (TFP) seeks to train individuals in entrepreneurship and the translation of innovation into commercial ventures by connecting them to programs and workshops around campus while protecting time for entrepreneurial activities.
---
Digital Case - CWRU's Open Access Digital Repository
To ensure that the broadest possible audience can access and read your work, you can share your work in an open access repository, regardless of where you publish. Such repositories, managed by the world's libraries, research institutions, and funders, also work to ensure that your scholarship is preserved in the long term.
Sharing your work in an open access repository means knowing what rights you have as a publishing author, and what rights a publisher needs to in order to disseminate your work. Knowing your rights as an author, and how to retain them, gives you greater control over your scholarship. When you author an original research article, you are automatically granted copyright ownership of it, along with your co-authors. This means you have the rights to reproduce, distribute, present, display and build upon your work unless you transfer those rights to someone else. For scholarly articles, publishers require some transfer of rights in order to disseminate your work, but as an author you are entitled to negotiate which rights you retain to use, share, and build upon your work.
Digital Case is CWRU's open access repository for sharing the scholarly output of the university, and includes published scholarship produced by faculty, students, and staff as well as curated digital collections from University Archives and the Kelvin Smith Library. Sharing your work in Digital Case means that anyone can read it, regardless of whether they subscribe to the scholarly journal you published in. It also means that the CWRU and the Kelvin Smith Library will work to ensure that your scholarship is preserved in the long term.
---
Graduate Student and Postdoctoral Coaching Program
This program provides a space for participants (graduate students and postdocs) to engage in personal and professional development by working through the five steps of the Intentional Change Theory (ICT). Participants are guided through this process by volunteer coaches who are CWRU faculty and staff certified through the Weatherhead Coaching Certificate program, and beyond. This collaborative program, between Student Activities & Leadership and the Graduate Studies Professional Development Center, is open to all graduate students and postdoc scholars and fellows. Contact: gradprofdev@case.edu
---
CWRU Courses
UNIV 401: Advanced Professional Development for University Teaching (0 credit) (free)
UNIV 401 is intended to provide graduate students and postdocs with the chance to learn innovative, effective, and evidence-based teaching strategies that are useful in university classrooms. This is a 14-week, zero-credit hour seminar (free) co-sponsored by UCITE and the Graduate Studies Professional Development Center. More information about the Postgraduate Audit Program can be found here. Email postdoc@case.edu if you are interested in registering for the seminar. 
MGRD 425: Leadership and Professional Development Skills for Biomedical Sciences (0 credit) (free)
MGRD 425 is designed to give graduate students in the biomedical and health sciences an opportunity to reflect on their professional skills and develop skills in the area of leadership, teamwork, critical thinking, creativity and problem solving.
---
Diversity, Equity, and Inclusive Engagement
Diversity360 for Graduate Students and Postdocs
In Diversity 360, we further explore topics from the Diversity 360 program through facilitated sessions, panels, service projects, or guest speakers on the following topics: Gentrification/Urban Planning, Academic Inequity/School to Prison Pipeline/Mass Incarceration, Cultural Appropriation, Socioeconomic Status - Racial Juxtaposition, Women's Rights/Feminism v. Womanism/Intersectionality, Colorism, Understanding those that are Undocumented, Women's Health (Access), Ecological Awareness, Gender Diversity, and more. Open to graduate students and postdocs.
Train The Champion
Train the Champion is designed to develop diversity champions who actively work to create a more welcoming and inclusive campus environment. 
Sustained Dialogue
The Sustained Dialogue program brings together individuals from various backgrounds to discuss campus, local, and national issues of concern, including diversity and inclusion matters.
Power of Diversity Lecture Series
The Power of Diversity Lecture Series works to inspire campus dialogue, community engagement, and civic education and learning about the national narrative on diversity and inclusion. 
---
National Center for Faculty Development & Diversity (NCFDD)
NCFDD is a professional development, networking, and mentoring service that offers support, resources and forums to help participants increase their research and writing productivity, and improve work-life balance. All CWRU faculty members, graduate students and post-doctoral researchers, have access to the resources on the NCFDD website. Register at the website www.FacultyDiversity.org. For registration assistance email FacDev@case.edu
---
Flora Stone Mather Center for Women - Research & Professional Development Grants
The Flora Stone Mather Center for Women offers grants to support the professional development and research of women-identified individuals in underrepresented fields such as STEM and research on feminism or women and gender equity. The Grants Committee's policy will award money to as many eligible applicants as possible.
Typical grant amounts range from $100–$800; however, we will consider larger requests. Proposals can be for such items as:
Publication subventions
Participant incentives
Research materials
Travel for research
Travel to conferences in cases where the applicant is on the program
Travel to professional development on feminism or women and gender equity
---
Kelvin Smith Library
Search their collections, ask a librarian, get assistance teaching in the classroom, utilizes their spaces for meetings. 
---
Professional Development Center - Additional Programming
Contact the Graduate Studies Professional Development Center at gradprofdev@case.edu for more information or check out the Events section of the Graduate Studies Campus Groups page. 
Skills Workshops: Elevator Pitch, Networking, Poster Presentations, Etiquette, and more
Academic and Non-Academic Careers Series
Weatherhead Executive Education Courses
Local and National Speakers and Authors
Imposter Syndrome Workshops (in partnership with Graduate Student Life)
3-Minute Thesis
---
The New York Times subscription
The Kelvin Smith Library offers free subscription access to The New York Times. See how to sign up here. 
---
Join a Professional Association in your Field
We encourage you to not only join, but get involved with and network within these communities. They are full of like-minded individuals, can help you make connections, and will bring about opportunities that may be of interest. 
---
Professional Development Day
This is an annual event open to staff, faculty, graduate students, postdocs, and alumni which features professional development information and sessions. This event is a collaboration between the Human Resources Professional Development Center, Graduate Studies Professional Development Center, Faculty Development, Center for International Affairs, and Alumni Affairs. This event is typically held in January. 
---
Useful Links