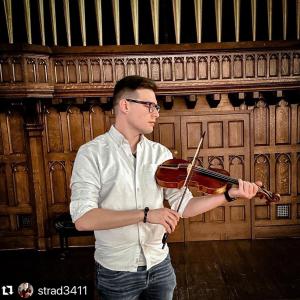 Saturday, March 25, 2023
4:00 PM
Florence Harkness Memorial Chapel
Free and open to the public
Event Details/Summary
Program coming soon!
This program will feature Farina's Sonata Desperata, Rebel's très gay Caprice, Biber's Guardian Angel Passacaglia, some spectacular Leclair variations, and a rarely played Bach sonata. 
Historical violinist Andrew Hatfield is pursuing a DMA at Case Western Reserve University, where he studies with Julie Andrijeski. In addition to his work at CWRU, Andrew has presented on performers' agency in university ensemble auditions at the 2019 Oxford Conducting Institute Conducting Studies Conference, performed at the 2018 Musicking Conference at University of Oregon, and presented on historical tunings and temperaments at Marywood University in 2021.
As a performer, Andrew earned his M.M.in violin performance from Michigan State University, where he served as concertmaster of the MSU Concert and Opera Orchestras, member of the new music ensemble Musique21, and concertmaster for many theatre productions, including the premier of Dr. Fox and the Impossible Cure for Death in 2019. Andrew also performed regularly with the Midland, Traverse, and Southwest Michigan symphony orchestras and served as violinist and violist at the 2019 College Light Opera Company and Highfield Philharmonic in Cape Cod, Massachusetts.
CWRU Music Concert Series
This performance is part of the CWRU Music Concert Series. These events are free and open to the public. Can't be with us in person? No problem! View the livestream channel below on concert day. 
Live Stream in Harkness Chapel
---
We strongly encourage all campus visitors to be fully vaccinated—including boosters if eligible. All visitors and members of the university may choose whether to wear masks indoors on campus, unless they are in clinical settings, including the dental clinic, or have received university approval for an exception. We encourage everyone in the campus community to respect individual choices to wear a mask. Please remember that those with COVID-19 symptoms should stay home. Learn more about CWRU's COVID-19 response.