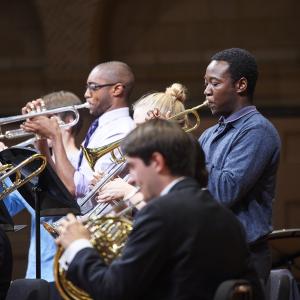 Thursday, March 2, 2023
7:30 PM
Florence Harkness Memorial Chapel
Free and open to the public; no tickets required. 
Watch Livestream
Event Details/Summary
CWRU Jazz Ensembles I and II will play classic jazz repertoire and original compositions.
Paul Ferguson, Director: Senior Instructor Paul Ferguson has taught jazz at CWRU since 1988. He is the Artistic Director of the Cleveland Jazz Orchestra and trombonist and arranger for the Cleveland Pops. Considered one of the leading jazz composers of his generation, his music has been performed and recorded internationally. In recent years he has given master classes in Italy, Spain, and Scotland. He is an avid golfer and has hiked various portions of the Appalachian Trail.
About the Bands: The Case Western Reserve University Jazz Ensembles follow standard big-band instrumentation, and play both traditional and modern jazz repertoire, with an emphasis on individual improvisation. Membership is open to all students for both Jazz I and Jazz II, but an audition is required for placement into Jazz I.
Program
Be Thou My Vision Traditional Irish Hymn, Arr. Paul Ferguson
Maris Usis, Piano
Pavane Gabriel Fauré, Arr. Regina Carter
Jerry Zhang, Flute
Darg Boni, Vibraphone
Es Lauterbach, Piano
Dreamsville Paul Ferguson
Maris Usis, Piano
Village Trumpets Richard Barth, Arr. Paul Ferguson
Adam Brooks, Trumpet
The Peacocks Jimmy Rowles, Arr. Bill Holman
Samuel Stawovy, Baritone Saxophone
Encounter Paul Ferguson
Abigail Morse, Tenor Saxophone
Any Dude'll Do Bill Holman
Matthew Smutny, Baritone Saxophone
Stolen Moments Oliver Nelson
Noah Clayton, Alto Saxophone
Yearnin' Oliver Nelson
Jesse Silverberg
Bossa Chick Corea
Marie Pugliese, Piano
The Sweet Home Suite Weillin Feng
Noah Clayton, Alto Saxophone
Jesse Silverberg, Piano
Adam Brooks, Trumpet
Ben Stites, Drums
Walk Forth Paul Ferguson
Miles Miller, Tenor Saxophone
Weillin Feng, Trombone
CWRU Music Concert Series
This performance is part of the CWRU Music Concert Series. These events are free and open to the public. Can't be with us in person? No problem! View the livestream channel below on concert day. 
Live Stream in Harkness Chapel
---
We strongly encourage all campus visitors to be fully vaccinated—including boosters if eligible. All visitors and members of the university may choose whether to wear masks indoors on campus, unless they are in clinical settings, including the dental clinic, or have received university approval for an exception. We encourage everyone in the campus community to respect individual choices to wear a mask. Please remember that those with COVID-19 symptoms should stay home. Learn more about CWRU's COVID-19 response.