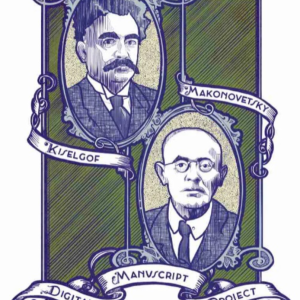 Thursday, December 8, 2022
7:30 PM
Florence Harkness Memorial Chapel
Free and open to the public. Livestream link provided below.
Event Details/Summary
View/download the concert program on this page.
Our special program this evening features klezmer music from the recently available handwritten notebooks (hefts) of Avrom Makonovetsky's Wedding Manuscript. Long preserved in the Vernadsky National Library of Ukraine, the notebooks had been inaccessible to klezmer musicians and scholars until 2017 when the researcher, Anna Rogers (University of Tokyo) traveled to Kyiv, Ukraine and obtained a formal request for research access to the materials. She was granted permission to copy high-quality photographs of the pages of several of the notebooks housed in Archive #190. The Klezmer Institute, dedicated to supporting Ashkenazic Jewish expressive culture through research, teaching, publishing, and programming, has disseminated the works and has coordinated an international volunteer effort to digitally notate, transcribe, and translate all the music and marginalia in the corpus (the Kiselgof-Makonovetsky Digital Manuscript Project or "KMDMP"). The corpus comprises approximately 1300 melodies, and as of November 2022, 90% of the corpus has been digitally notated. Avrom Makonovetsky's Wedding Manuscript is a bountiful treasure that beautifully augments the major collections of klezmer and Yiddish folk music collected by the Jewish scholars Moshe Beregovski (Jewish Musical Folklore, Vol. 3 - Jewish Instrumental Folk Music and Vol. 4  - Jewish Folksongs Without Words), Joachim Stutchewsky (HaKlezmorim), and Moshe Bik (Jewish Wedding).
Steven Greenman, director, piano, violin
Isabel (Izzy) Barron, viola (CIM)
Calvin Beck, guitar (CIM)
Kaylee Bontrager, violin (CIM)
Natalie Brennecke, viola (CIM)
Isabel Fedewa, flute (CWRU)
Caris Goebel, violin (CWRU)
Matthew Haimowitz, tenor, piano (CWRU)
Qingzhou Li, violin (CIM)
Charlotte Lohman, viola (CIM)
Aria Posner, cello (CIM)
Maxwell Rush, double bass (CIM)
Henry Samuels, double bass (graduate of CIM)
Becky Schneirov, clarinet (CWRU)
Joseph Sferra, clarinet (CIM faculty)
Nicolas Shafer, euphonium (CWRU)
Mira Vaughn, viola (CIM) 
Leah Widmaier, viola (CIM)
CWRU Music Concert Series
This performance is part of the CWRU Music Concert Series. These events are free and open to the public (no tickets required). Can't be with us in person? No problem! You can still join us via livestream. View the channel below on concert day. 
Live Stream in Harkness Chapel
---
Individuals attending Case Western Reserve University events are expected to be fully vaccinated, including boosters if eligible. All visitors and members of the university may choose whether to wear masks indoors on campus, unless they are in clinical settings, including the dental clinic, or have received university approval for an exception. We encourage everyone in the campus community to respect individual choices to wear a mask. Please remember that those with COVID-19 symptoms should stay home. University leaders continue to monitor pandemic developments and will adjust health protocols as circumstances warrant. Learn more about CWRU's COVID-19 response.