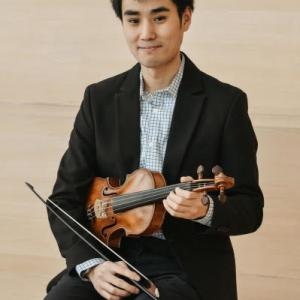 Monday, April 25, 2022, 5:00 PM
Harkness Chapel, 11200 Bellflower Road
Free and open to the public
Program
View the full program information on this page.
Sounding Arcadia in China: The Music of Teodorico Pedrini (1671–1746)
~with~
Addi Liu, violin
Guillermo Salas-Suarez, violin
Phaik Tzhi Chua, violin
QinYing Tan, harpsichord and organ
Peter Bennett, harpsichord
Teodorico Pedrini (1671–1746)
Sonata I in A Major, Op. 3
     Adagio
     Allegro
     Largo
     Adagio
     Allegro

QinYing Tan, organ

Sonata III in D Major, Op. 3
     Grave
     Allegro
     Adagio
     Allegro-Adagio
     Allegro
QinYing Tan, harpsichord

Sonata VI in B-flat Major, Op. 3
     Grave
     Vivace
     Adagio
     Allegro
     Adagio
     Allegro
Guillermo Salas-Suarez, violin

Sonata VIII in B-flat Major, Op. 3
     Grave
     Vivace
     Adagio
     Balletto. Allegro
     Allegro
Peter Bennett, harpsichord

Sonata XII in F Major, Op. 3
Pastorale. Adagio (arr. for two violins and continuo)
Phaik Tzhi Chua, violin 
QinYing Tan, organ
About
The Op. 3 collection of sonatas for violin and basso continuo by the missionary and violinist Teodorico Pedrini has attracted the attention of audiences and historians for being the first documented instance of European music compiled and likely composed in China. These twelve sonatas under the name "Nepridi" (anagram of Pedrini) were written in the style of Corelli's op. 5, though I will also show Corelli's Concerti Grossi, op. 6, as a second point of reference. Pedrini left Rome in 1702 and reached the Beijing court in 1711 after nine years of tortuous travels through the New World and Asia. Arriving at an opportune moment, Pedrini was immediately recruited as a musical tutor to the Kangxi Emperor (r. 1661–1722) and contributor to the emperor's ambitious compendium project on music and tuning, the Imperially Composed Correct Interpretations of Musical Tuning (Yuzhi lülüzhenghyi 御製律呂正義, completed 1713).
While much of Pedrini's scholarship focuses on his political entanglement at the Beijing court and issues of translation in his transmission of music theory, I will discuss Pedrini's music and performance practice considerations. This lecture-recital will shed light on Pedrini's compositional practices through recent work on schema theory (Gjerdingen, Rice, et al.) and suggest Pedrini's self fashioning as a shepherd in light of his membership at the Arcadian Academy in Rome and his pastoral duties as a parish priest in Beijing.
Bio
Addi Liu is a Baroque violinist. He has appeared in performances with ensembles such as Apollo's Fire, Les Délices, Bourbon Baroque, Indianapolis Baroque Orchestra, and more. With soprano and harpist Anna O'Connell, his ensemble Time Stands Still was awarded Early Music America's 2021 Emerging Artists grant.

Raised in Hong Kong, he studied at San Francisco Conservatory of Music's preparatory and collegiate divisions where he graduated with a BM and MM with a Departmental Award in Excellence. He is an alumnus of the Aspen Music School and Festival, Amherst Early Music Festival, Tafelmusik Baroque Summer and Winter Institutes, and La Petite Bande Summer Academy. Influential mentors include Jodi Levitz and Julie Andrijeski.  

His research interests include performance practice and the transmission of music theory between China and the West, in particular the Catholic missions in 17th- and 18th-century Beijing. His paper at the Society of Seventeenth-Century Society was awarded the Irene Alm Memorial Prize (2021).

He is currently a candidate and teaching assistant at Case Western Reserve University in pursuit of a Doctor of Musical Arts degree in Historical Performance Practice. He studies with Julie Andrijeski.
---
Individuals attending Case Western Reserve events are expected to be fully vaccinated, including boosters if eligible. Masks are not required at this time, but we respect the choices of those who elect to wear them. University leaders continue to monitor pandemic developments and will adjust health protocols as circumstances warrant.