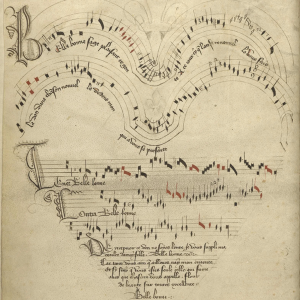 Friday, March 31 and Saturday, April 1, 2023
Harkness Chapel/Classroom 
Haydn Hall 
Every two years, the Music Graduate Student Association (MGSA) selects a topic around which to organize a two-day conference that is presented with support of the School of Graduate Studies, the Department of Music, and the Center for Popular Music Studies, as well as other units in the humanities. The conference attracts papers from graduate students from across the country and has been an excellent forum for discussion not only of each year's topic but also of current issues in the field that are relevant to all graduate students.
The MGSA welcomes keynote speakers and guests to Case Western Reserve University:
Co-Presidents: Maura Sugg and Sam Nemeth
Area VP for Musicology: Katie Sucha
Area VP for HPP: Kameryn Lueng
Area VP for MuEd: Jason Delfing
VP for Communications: Krista Mitchell
VP for Events and Finance: Bethany Westphal
Department Senator to GCAS: Dane Harrison
Conference Guests
Conference Schedule
Friday, March 31, 2023
1:30 PM, Harkness Chapel Foyer
Participant/Student Check-in
2:15 - 3:30 PM, Harkness Classroom
Panel 1, "What's Under the Surface"
Marcelo Rebuffi (CWRU) "Post-War Trauma, Disability, and Multi-Narrative Strategies in Prog Rock"
Maura Sugg (CWRU) ""That Funny Feeling:' Performing Melancholia in Bo Burnham's Inside (2021)"
4:00 - 5:30 PM, Harkness Classroom
Colloquium (Keynote #1), Jill Rogers (Indiana University) "Play it Again, Yvonne: Radio Performance as an Embodied Technology of Hope, Love, and Friendship during World War II" 
About the Talk
In 1943, Suzanne Cherbonnel-Prel wrote to her teacher, the virtuoso French pianist Yvonne Lefébure, declaring that "your radio broadcasts of the last two weeks give us the great joy of works splendidly performed and of your dear presence from afar." This letter is one of many in Lefébure's archives at the Bibliothèque Musicale LaGrange-Fleuret that emphasizes how Lefébure's radio broadcasts operated as a way for her students, family, and friends to stay in touch with her. Lefébure had escaped occupied Paris in 1940 to live in the small town near the Spanish border, Perpignan, where she lived with her German-Jewish partner, Fred Goldbeck, and her mother until further occupation of France necessitated Goldbeck's exile in Spain. Like her neighbor in Perpignan, Pablo Casals, Lefébure refused to perform on occupied French radio, even though radio offered her a significant medium for career success.
In this paper, I show how Lefébure employed radio as both a bodily, socio-emotional, and political technology during and immediately after World War II. I analyze letters, contracts, and radio broadcast scripts in Lefébure's vast but virtually untouched archive that demonstrate how Lefébure and those in her social circle understood and chose to utilize radio performances amidst the war's political and emotional turmoil. This paper not only highlights the political and social significance of radio piano performances during the war; it also sheds light on the life of a pianist who, though largely forgotten today, functioned as a beacon of solidarity and hope for many of her time.
About the Speaker
Jillian Rogers is Assistant Professor of Musicology at Indiana University. Jill's research on relationships between music/ sound and how people have historically experienced and coped with trauma appears in Nineteenth-Century Music Review, Music & Letters, and Transposition. Her interests in French modernism, affect and psychoanalytic theory, and sound studies, as well as trauma studies and performance studies, coalesce in her book Resonant Recoveries: French Music and Trauma Between the World Wars (OUP, 2021).
5:45 - 6:45 PM, Haydn Hall 1st Floor Music Hall
Graduate Student Dinner (provided)
7:00 PM, TBD
Informal Evening Entertainment/Graduate Student Gathering
8:30 PM
Depart for the Evening
Saturday, April 1, 2023
9:15 AM, Harkness Chapel Foyer
Light Breakfast and Coffee (provided)
10:00 - 11:45 AM, Harkness Classroom
Panel 2, "Affects, Passions, and Performing"
Eleanor Legault (The Julliard School) "Commanding the Passions: Historical Acting Techniques in Music and the Body"
Krista Mitchell (CWRU) "Music as an Embodied Performance Enhancer: The Importance of Choreomusical Congruence in Pole Dance Competitions"
Kayla Solomon (U. of Illinois) "Injury Prevention for Optimal Embouchure Performance"
12:00 - 1:00 PM
Break for Lunch (on your own)
1:15 - 3:30 PM, Harkness Classroom
Panel 3, "Musical Embodiment"
Chieh Huang (UC Irvine) "Relation, Positionality and Embodiment in Indigenous Music"
Erin Hopkins (CWRU) "Musical Stimming in Autistic Adults"
Cecilia Hiros (U. of Michigan) "Bodyminds: A Disability Theory for Embodied Classical Performance"
3:30 - 3:45 PM, Harkness Chapel Foyer
Short Break (beverages provided)
4:00 - 5:30 PM, Harkness Classroom
Keynote #2, Maria Cizmic (University of South Florida) "Story of an Artist": Performing Disability and the Music of Daniel Johnston"
About the Talk 
Daniel Johnston (1961-2019) was a singer-songwriter and artist who attained notoriety in Austin, Texas during the 1980s and who foregrounded his mental illness as part of his public persona. Although Johnston became an influential figure in the indie-music scene in the 1990s and onward, his performances and recordings were often outside of normative professional indie-rock musicianship. Many prominent musicians—including Jeff Tweedy, Tom Waits, Nick Cave, among many others—have covered Johnston's songs. Along with Jeff Feuerzeig's 2006 documentary The Devil and Daniel Johnston, these covers helped develop and sustain a fan base for Johnston. My own experience of seeing Johnston in concert serves as a point of departure for thinking about the entanglements of discourse, performance, listening, and psychiatric disability. This paper brings together several different types of media: Johnston's live performances and youtube videos; the documentary's narration of his life and music; the use of Johnston's music in advertising; and covers of his songs. Through these examples, this paper considers the following questions: How do musical norms of being in tune and in time influence the ways audiences listen to Johnston? How does the narrative of Johnston's mental illness shape both how people listen to and cover his songs? And generally, how do stories about musicians with disabilities influence how listeners understand what they see and hear?
About the Speaker
Since completing her doctorate in musicology at UCLA, Maria Cizmic has been teaching in the Humanities and Cultural Studies Department at the University of South Florida, where she is currently an Associate Professor. Maria is the author of Performing Pain: Music and Trauma in Eastern Europe, and her essays appear in Twentieth-Century Music, American Music, Music and the Moving Image, and numerous edited collections. She writes and teaches about music and trauma, late socialist Eastern Europe, film music, and American popular and experimental music. Her interests in disability, performance, mediation, and embodiment inform the talk that she'll be giving today.
5:30 - 5:45 PM
Closing Remarks
---
We strongly encourage all campus visitors to be fully vaccinated—including boosters if eligible. All visitors and members of the university may choose whether to wear masks indoors on campus, unless they are in clinical settings, including the dental clinic, or have received university approval for an exception. We encourage everyone in the campus community to respect individual choices to wear a mask. Please remember that those with COVID-19 symptoms should stay home. Learn more about CWRU's COVID-19 response.