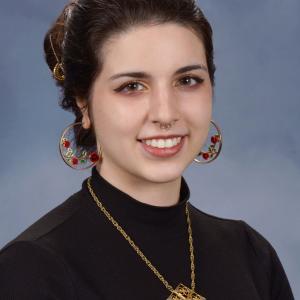 Saturday, May 6, 2023
7:00 PM
Florence Harkness Memorial Chapel
Free and open to the public
Watch the Livestream >>
Event Details/Summary
Eric Charnofsky, piano
Tyler Powers, bass
Adam Brooks, trumpet and cabasa
2 Petite Pièces - André Caplet (1878-1925)
   Rêverie
   Petite Valse
Canzone - Samuel Barber (1910-1981)
Sonatine - Pierre Sancan (1916-2008)
~Intermission~
It's Raining Somewhere Else - Toby Fox (b. 1991), arr. by Venice Villescas
Totem Pole - Lee Morgan (1938-1972), arr. by Venice Villescas
Venice Imani Villescas is a 4th year music major at Case Western Reserve University. While at CWRU, Venice played flute in the Case/University Circle Symphony Orchestra and was chosen to play first chair in CWRU's selective Wind Orchestra, which premiered Giovanni Santos' "I Dream Awake". Venice is an active member of Heidi Ruby-Kushious' flute studio. 
In addition to playing flute, Venice played baritone and lead alto saxophone in CWRU's Jazz Ensemble I. She composed "March for Four Clowns" debuted by the Saxophone Quartet in CWRU's 2021 Fall Concert and "I Like Your Face" performed by Jazz Ensemble I and the Camerata Orchestra in Spring of 2022.
As a part of the joint program between CWRU and The Cleveland Institute of Music, Venice spent a lot of time taking music theory classes at CIM. It was there, while taking Diane Urista's fundamental music theory classes, that Venice discovered her passion for teaching and learning music theory. That inspiration led Venice to apply to The Jacobs School of Music at The University of Indiana, where she was offered a full scholarship to obtain a Masters Degree in Music Theory. Along with one of the Jacobs School's most prestigious awards, Venice was appointed as an Associate Instructor of Music Theory for the 2023-2024 and 2024-2025 school years.
During her sophomore year, when the COVID pandemic led to mandatory distance-learning, Venice took advantage of the extra time by participating in UMKC's Music Conservatory Spring 2021 Solo Festival, where she was named a "top 10 performer" and chosen to play at the Awards Recital.
Outside of school, Venice teaches music lessons, which she started doing during her senior year of high school. Venice has written several arrangements, including two of Thundercat's pieces from his album "It is What it is". Her arrangements were so impressive that Thundercat himself praised one of them as "absolutely stunning". When Venice is not playing music, she is dancing with the CWRU Swing Club at community events on and off campus.
CWRU Music Concert Series
This performance is part of the CWRU Music Concert Series. These events are free and open to the public. Can't be with us in person? No problem! Watch the Livestream on concert day. 
---
We strongly encourage all campus visitors to be fully vaccinated—including boosters if eligible. All visitors and members of the university may choose whether to wear masks indoors on campus, unless they are in clinical settings, including the dental clinic, or have received university approval for an exception. We encourage everyone in the campus community to respect individual choices to wear a mask. Please remember that those with COVID-19 symptoms should stay home. Learn more about CWRU's COVID-19 response.