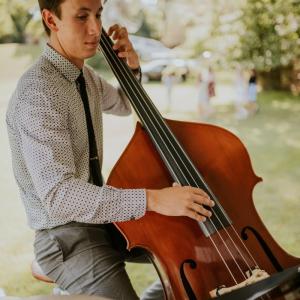 Saturday, April 1, 2023
8:30 PM
Florence Harkness Memorial Chapel
Free and open to the public
Live Stream Channel
Event Details/Summary
Adam Brooks, Trumpet and Voice
Noah Clayton, Alto Sax and Soprano Sax
Matthew Smutny, Baritone Sax and Alto Sax
Miles Miller, Tenor Sax
Weillin Feng, Trombone
Joseph Lauerman, Piano
Angelo Antinori, Drums and Vibraphone
Set 1 (Standards)
A Night in Tunisia Dizzy Gillespie (1917-1993)
So What? Miles Davis (1926-1991)
Cherokee Ray Noble (1903-1978)
Summertime George Gershwin (1898-1937)
Have you met Miss Jones Richard Rodgers (1930-1979)
Intermission
Set 2 (Originals)
Have you met Miss Jones Hugh Bessolo (b. 2001)
Glass Half Full Hugh Bessolo
Zorza Polarna Hugh Bessolo
Where but Here Hugh Bessolo 
About the Soloist
Hugh Bessolo is a fourth-year student pursuing a B.S.M. in Finance and a B.A. in Music at Case Western Reserve University (CWRU). He has played bass in a variety of ensembles and clubs at CWRU, including Case/University Circle Symphony Orchestra, Symphonic Winds, Jazz I and II big bands, foot lighters, and a number of jazz combos. Whether it was playing guitar in a rock band, or playing bass in the jazz trio he co-founded in high school, Hugh has always been passionate about music. During his time at CWRU he has continued to develop both as a jazz and classical musician as well as discovering his interest in composition. When not playing music, Hugh loves to be outdoors, especially out west, skiing, and mountain biking.
Acknowledgments
Hugh would like to thank his primary applied music instructor and capstone advisor Dr. Kathleen Horvath, his capstone instructor Dr. AJ Kluth, the CWRU Department of Music, and everyone who has supported him throughout his undergraduate career. Additionally, Hugh would like to thank his parents for always supporting his music.
CWRU Music Concert Series
This performance is part of the CWRU Music Concert Series. These events are free and open to the public. Can't be with us in person? No problem! View the livestream channel below on concert day. 
Live Stream in Harkness Chapel
---
We strongly encourage all campus visitors to be fully vaccinated—including boosters if eligible. All visitors and members of the university may choose whether to wear masks indoors on campus, unless they are in clinical settings, including the dental clinic, or have received university approval for an exception. We encourage everyone in the campus community to respect individual choices to wear a mask. Please remember that those with COVID-19 symptoms should stay home. Learn more about CWRU's COVID-19 response.