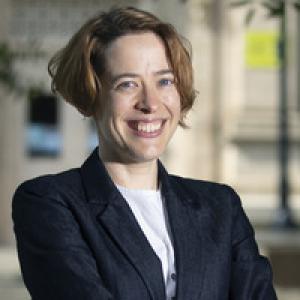 Friday, February 10, 2023
4:00 PM 
Harkness Chapel, Classroom
"Hearing Lwów Out of War, 1939: Singing and the Limits of Sonic Evidence"
Music colloquia provide a weekly forum for presentation and discussion of recent research by distinguished visitors and CWRU faculty and graduate students in musicology, historical performance practice, and music education.
All talks happen on Fridays at 4:00 PM (Eastern) in Harkness Chapel, Classroom, and are open to the public unless noted otherwise. 
About the Talk
This talk draws attention to a three-and-a-half-minute sound recording made December 1939 in Prenzlau, Germany. In detention at the POW barracks for Polish officers, Kazimierz Dziubek shared a song with two linguists who were collecting his voice in order to preserve the urban Polish dialect distinctive to the multiethnic city, Lwów. Two verses that were classified as speech were in fact a hit song from Polish cinema, "Only in Lwów" (Tylko we Lwowie, 1939) by the prolific composer Henryk Wars and his frequent lyricist-collaborator Emanuel Szlechter. Even though this recording has hardly been heard, it cues my attention to the lives of those invested in its circulation: the song's Polish Jewish authors, the Polish Catholic dance instructor who sang it, and the Ukrainian linguist who pulled it from the archive, listened, and transcribed it in 1942. My analysis insists on a connection between wartime recording and the afterlives of Nazi genocide and German colonial expansion as I explore the recording's connection to Hollywood and Canada's state policy of multiculturalism (1971– ). I animate the spatiality—material and metaphorical—of this recording to show this sound's evidentiary power, despite the transmission failure that undergirds its past.
About the Speaker
Andrea F. Bohlman is associate professor of music at the University of North Carolina at Chapel Hill, USA. Much of her writing thinks through questions of political agency and strategies of shaping social movements through sound and music in Central and Eastern Europe, as in her 2020 book Musical Solidarities: Political Action and Music in Late Twentieth-Century Poland. Bohlman's research on the history of sound recording—on mixtapes, field recordings, oral histories, and electroacoustic composition—situates the practices in the everyday and the hands of a range of practitioners. A book in progress, provisionally entitled Magnetic Fields: Tape and the Sounding of Consent, is a material and cultural history of tape recording as a site of social intimacy and knowledge production from 1936 to the present. She is also the executive editor of the online publication of the American Musicological Society, Musicology Now.
---
We strongly encourage all campus visitors to be fully vaccinated—including boosters if eligible. All visitors and members of the university may choose whether to wear masks indoors on campus, unless they are in clinical settings, including the dental clinic, or have received university approval for an exception. We encourage everyone in the campus community to respect individual choices to wear a mask. Please remember that those with COVID-19 symptoms should stay home. Learn more about CWRU's COVID-19 response.