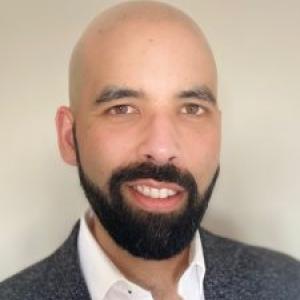 Friday, February 25, 2022, 4:00 PM
Harkness Chapel, Classroom, (11200 Bellflower Road Cleveland, OH)
Music colloquia provide a weekly forum for presentation and discussion of recent research by distinguished visitors and CWRU faculty and graduate students in musicology, historical performance practice, and music education.
This talk will take place on campus and is free and open to the public. 
About the Talk
"Ethnomusicology and the Genealogical Method: Listening to the Present, Writing the Past"
In this paper, I propose critical genealogy as a methodology whereby ethnography serves as a way of writing history and wherein the present serves an epistemological standpoint that structures, limits, and enables knowledge of the past. Drawing on my own research on how musicians shaped the Israeli-Palestinian conflict during the twentieth century, I demonstrate a method for researching the musical genealogies of individual performers, performances, and repertories, and how those genealogies in turn connect to genealogies of other kinds of knowledge that concern ethnomusicologists who theorize music in/as culture.
About the Speaker
Michael A. Figueroa is Associate Professor of Music at the University of North Carolina at Chapel Hill. He specializes in musics of the SWANA region and its diasporas, with an interest in the Israeli-Palestinian conflict, Arab diaspora in North America, and issues related to music, poetry, and multimedia. He is the author of City of Song: Music and the Making of Modern Jerusalem (Oxford University Press, 2022) and co-editor of Performing Commemoration: Musical Reenactment and the Politics of Trauma (University of Michigan Press, 2020), as well as articles appearing in Ethnomusicology, Ethnomusicology Forum, Journal of Music History Pedagogy, Journal of Musicology, and multiple edited volumes.
---
The number of COVID-19 cases nationally and in our region requires Case Western Reserve to enhance efforts to reduce transmission risks on campus. Masks must be worn indoors—preferably KN95s or at least surgical ones; cloth masks are strongly discouraged. In addition, only those who are fully vaccinated (i.e., have received the booster if eligible) should attend any campus event. Leaders continue to monitor pandemic developments and will adjust health protocols as circumstances warrant. Learn more about CWRU's COVID-19 response.