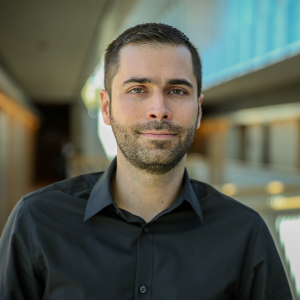 Friday, April 1, 2022
Music colloquia provide a weekly forum for presentation and discussion of recent research by distinguished visitors and CWRU faculty and graduate students in musicology, historical performance practice, and music education.
All talks happen on Fridays at 4 PM and are free and open to the public. 
About the Talk
"Keep Copying Us: Auditory Creativity, Authorial Attribution, and the Productive and Destructive Limits of Copyright in Argentina's Soccer Culture"
This talk discusses issues of creativity and attribution in Argentina's culture of soccer fandom. Fans vocalize contrafacta of popular music during games, competing over which fanbase is the most inventive one in the country. Yet creativity not only points to poetical originality but also to the aural imaginativeness to find melodies that could potentially work as chants. Albeit embedded in relations of competitive authorship, these chants are also part of a public ecology that is open to rival fans, who are encouraged to appropriate them and create their own contrafacta. This participatory yet competitive ethos illustrates the existence of an alternative set of social norms to regulate attribution. Although these practices are at odds with copyright law, the latter has not truly undermined the subculture's creative sociality.
About the Speaker
Luis Achondo is a HILLS Postdoctoral Scholar in the Humanities at Case Western Reserve University. He holds a Ph.D. in Musicology and Ethnomusicology from Brown University. His current book project examines how sound mediates (anti)social and translocal relations among soccer fans in the Latin American Southern Cone. He previously researched Andrés Segovia's mediation of the history of the classical guitar. His projects have been funded by Fulbright, Tinker, and ANID, and his work has been published in edited volumes, Ethnomusicology Forum, Soccer and Society, Latin American Music Review, and Journal of Musicological Research. He was also awarded the Society for Ethnomusicology's James T. Koetting Prize and LACSEM Prize.
---
Individuals attending Case Western Reserve University events are expected to be fully vaccinated, including boosters if eligible. Masks are not required at this time, but we respect the choices of those who elect to wear them. University leaders continue to monitor pandemic developments and will adjust health protocols as circumstances warrant. Learn more about CWRU's COVID-19 response.