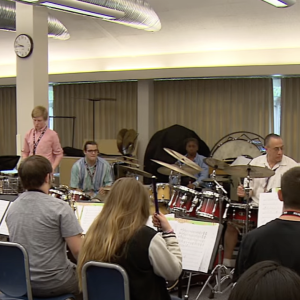 July 10-14, 2023
9:00 a.m. - 5:00 p.m. and Evening Special Sessions
Latin Jazz. Learn it. Live it.
Solely dedicated to the study and performance of the Latin Jazz genre, The Roberto Ocasio Foundation presents the annual Roberto Ocasio Latin Jazz Camp. In collaboration with the Department of Music. 
Bobby Sanabria
Artistic Director/Artist-In-Residence
World-renowned multi-Grammy nominee, master drummer and percussionist, composer, arranger, big band leader, and international educator. Learn more about Bobby Sanabria.
APPLICATION FORMS
Download application forms >>
June 20: Final Application Deadline
June 1: Discounted Tuition Deadline ($350)
After June 1: Full Tuition ($400)
Video footage must be submitted with application. For instructions, visit the "Audition" page.
Note: Tuition excludes airfare and other travel/lodging expenses.
WHERE
Case Western Reserve University
Denison Hall 
1650 E. 115th Street Cleveland, Ohio
WHEN
Mon, July 10 - Fri, July 14, 2023
9:00 a.m. - 5:00 p.m. and Evening Special Sessions
LOGISTICS
MUSIC STUDENTS *including 2023 graduates*
High School (grades 9-12)
College New program this year!
ALL INSTRUMENTS
Instruction, theory, improv, fundamentals of clave, Afro-Latin culture, history, performance techniques, diversity/world perspective, individual attention to enhancing musicianship, and broadening skills.
CAMP CONTACT INFORMATION
Phone: 440.572.2048
Email: trof@robertoocasiofoundation.org
Free Public Concert
Friday, July 14, 2023
7:00 p.m. | Harkness Chapel
11200 Bellflower Road Cleveland, OH
Free and open to the public. Open seating. No registration/tickets required. (400 capacity)
Can't be with us in person? No problem! Watch the Livestream on concert day.