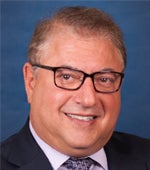 Greetings and welcome to the Master of Science in Anesthesia Program at Case Western Reserve University.
At the Master of Science in Anesthesia Program, we have a long tradition of excellence and innovation in certified anesthesiologist assistant (CAA) education.
Now more than ever opportunities abound for certified anesthesiologist assistants. Technological advances, changing economic patterns, health care reform and a more diverse patient population have made our health care system progressively more complex, and have consequently placed CAAs in demand like never before. Graduates of Case Western Reserve University's MSA Program are leaders in the profession because of the strong educational foundation and appreciation for advocacy that they receive.  As an alumnus myself, I can tell you that CWRU MSA's outstanding faculty and nurturing educational environment result in a quality education. Our alumni are leaders in the community, in the nation, and across the globe.
We continue to stay ahead of the times with our newly revised curriculum, integrating a bold mix of didactic and high-fidelity simulation-based education with our traditionally best-in-industry clinical instruction. The horizontally-integrated and physiologic-based curriculum emphasizes themes of scholarship, professionalism and leadership right from the start and is taught in parallel with the basic sciences that underpin anesthesia practice. In addition, we are proud to offer a robust clinical training environment, which gives our students a diverse experience and an opportunity to rotate among the major teaching hospitals in and around all of our regional locations. Most importantly, we stress the requirement that students "own their education" and be responsible for individual learning, which creates habits of lifelong scholarship and equips them with the tools to access and evaluate new information.
Students have access to state-of-the-art educational resources at CWRU MSA, including interactive classrooms equipped with the latest media and computer technology, electronic journals and books, and a robust simulation program, which features high-fidelity patient simulators. Simulation experiences are introduced in the first semester and increase in the second to better prepare the CAA student for the clinical environment. To assist our students with the complexity of the clinical setting, they will learn the principles of crisis management and apply them in a high fidelity setting in the simulation lab.
Program's greatest asset is our dedicated didactic and clinical faculty who continuously evaluate and improve our curriculum and learning environment. Their goal is to develop our students into colleagues, and we are proud of our current students and of our graduates who now are practicing as CAAs around the country.
At the CWRU MSA Program, our vision is to educate the finest non-physician anesthesia providers in the world.  We accomplish this through training practitioners who care for patients with competence, creativity and compassion, in a setting that fosters a collegial environment, leadership, and excellence.  Most of all, we are a community committed to increasing knowledge and deepening understanding.
Whatever your primary reason for visiting our website today, I hope you will take a few moments to explore our online home. From educational innovations built on our tradition of excellence to our ongoing dedicated drive to remain the best, from innovative teaching to relevant clinical learning opportunities, the CWRU MSA Program is a place where we "think beyond the possible" every single day.  Medical education is a never-ending, marvelous adventure, and we hope you will share it with us.
Sincerely,
‌Joseph M. Rifici, CAA, M.Ed.
Executive Program Director
Master of Science in Anesthesia Program
Assistant Professor of Anesthesiology
Case Western Reserve University School of Medicine