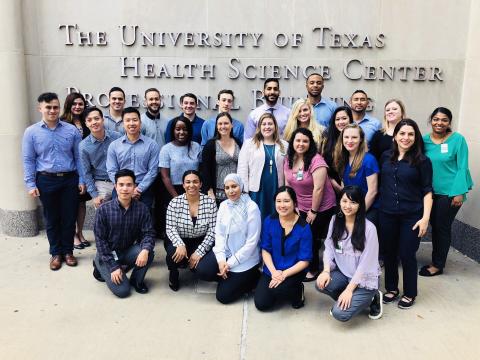 The program is limited to approximately 25 students per location per year who progress through the program as a cohort. This small size ensures that students receive a high level of instructor attention and experiential learning opportunities, and also creates the opportunity to form close bonds with their fellow classmates, which often transcend the program and continue into the workplace.
Application Overview
The Centralized Application Service for Anesthesiologist Assistants, or CASAA, is the online application service for all Master's level anesthesiologist assistant education programs in the United States. Through CASAA, prospective students may use a single web-based application and one set of materials to apply to multiple programs. Case Western Reserve University has partnered with CASAA to collect and manage applications for its Master of Science in Anesthesia Program.
The MSA Program offers rigorous, innovative instruction at our campuses in Cleveland, Houston and Washington, D.C. You are able to apply to one, two, or all three of our program locations for one application fee. The following outlines the application process.
Complete an online application through CASAA
The application opens each year in March. In the application, you will be able to select which of the CWRU MSA Program locations you are applying to and rank them in order of preference. Follow the instructions on the CASAA application. Once your application has been submitted and is in "Verified" status, the MSA Program will review your application and get back to you with feedback. The CASAA application must be submitted and verified by October 1.
Evaluations
The MSA Program participates in the CASAA evaluation program, and three evaluations must be received by CASAA before your application can be considered complete. All evaluations must be submitted by October 1.
Your evaluators must complete their evaluations online. Letters of recommendation should not be sent directly to the program office. The evaluation requires completion of two parts: (Part I) a rating of attributes and (Part II) a letter. The letter must be uploaded to the online evaluation portal in CASAA. Confidential letters are preferred.
Evaluations are very important in our decision-making process. They provide three additional voices advocating for your admission into the MSA Program and your fitness for becoming an anesthetist. We encourage you to choose evaluators who know you well and can objectively comment on your potential as an anesthesiologist assistant student. Family members and friends should not provide evaluations. We strongly recommend that you ask your evaluators not to submit letters written for other post-baccalaureate programs, such as medical school. Repurposed letters of recommendation may be detrimental to the review of your application.
Shadowing Experience
We recommend shadowing a certified anesthesiologist assistant in the operating room environment for at least sixteen hours. If you are in an area where CAAs are not prevalent, then shadowing an anesthesiologist or nurse anesthetist is suggested. The MSA Program does not have a specific shadowing form; however, you should keep a detailed record of your shadowing experiences so that you may upload that document to your CASAA application.
Applicants may request a shadowing experience through the MSA Program. Requests can be made at any location office, and procedures differ according to affiliate hospital regulations. While the program tries to accommodate as many applicants as possible, requesting a shadowing experience in no way implies or guarantees placement.
Submit MCAT Scores
Applicants should contact the Association of American Medical Colleges to request that their official scores be released to CASAA after self-reporting their MCAT scores and entering their AAMC ID number in the CASAA application. If you take the MCAT after you submit your application, log back in and update the MCAT section so that CASAA can receive your official scores. Your application will not be considered complete until an official MCAT score has been received.
The CWRU MSA Program accepts only the MCAT, and will not accept the GRE. The program will accept September MCAT scores even though those scores are released after the program's October 1 deadline. The minimum composite score needed is 493; however, 500 or higher is considered a competitive score for the program. Applicants who do not meet the minimum score requirement by October will be asked to retake the MCAT in January. Decisions will not be made on these applications until the new MCAT scores are released.
Interviews
The admissions committee will review your application and decide whether to extend an interview invite once your application is in verified status and your evaluations have been received by CASAA.
If a student is invited for an interview, they will interview at their location of preference as indicated on their application. The MSA Program will consider them for all the CWRU locations to which they applied, but they need only interview once. Applicants must interview in person; phone interviews are not permitted. After your interview, the committee will update you on your status as quickly as possible.
The admissions committee makes offers on a rolling basis, with final admission decisions being made in early March. All applicants will be notified of their status by mid-March. Admission decisions are communicated by email.
Admissions Timeline
March: Application is available
The CASAA application opens in mid-March. The MSA Program begins reviewing applications in verified status.
 
October 1: Application deadline
The CASAA application must be submitted and verified by this date, unless this date falls on a weekend, in which case the deadline will be the next business day. It can take up to four weeks for CASAA to verify your application, so we recommend that applicants complete their applications as early as possible.
 
September-February: Interviews held and offers of admission made
Qualified applicants are invited to interview and will interview at their location of preference as indicated on their application.
 
March-May: Offers extended to alternates
If seats come open, offers of admission will be extended to applicants on the alternate or wait-list. The program will notify the student immediately in the event of an open position or once enrollment is closed. Students on the alternate list should make sure their coursework is in order in case an offer of admission is made to them.
 
May: Classes begin
The MSA Program starts in the summer semester, the day after Memorial Day.
If you have questions pertaining to CASAA, or if you have technical issues, call CASAA Customer Service at 617.612.2077 or email casaainfo@liaisoncas.com.
If you have any other questions, we're happy to help and encourage you to reach out. Our central admissions office in Cleveland processes applications for all CWRU program locations. When an application is complete, verified, and has been reviewed, the admissions office will forward it to the appropriate program location. Questions about admission requirements or the process outlined above can be directed to the Cleveland office. Questions more specific to a location can be directed to the respective office.