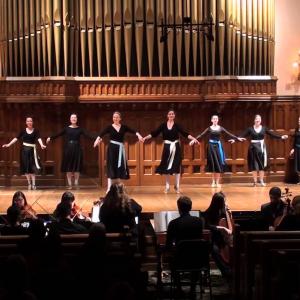 Monday, December 4, 2023
6:15 PM | Baroque Dance Demonstration 
7:30 PM | Baroque Orchestra/Dance Concert
Florence Harkness Memorial Chapel
Free and open to the public
Watch the Livestream >>
Event Details/Summary
View/download the program on this page.
The Cleveland Cello Society proudly presents: 
Baroque Dance Demonstration with Julie Andrijeski, Internationally-acclaimed Baroque violinist and dancer
Have you ever wondered while putting in countless hours learning the dance movements of J.S. Bach's Suites for Solo Cello, what the actual dance steps looked like? If so, the Cleveland Cello Society (CCS) has arranged an opportunity for you to begin to answer that question. Internationally-acclaimed Baroque violinist and dancer, Julie Andrijeski, Head of Historical Performance Practice at CWRU, will present an introductory demonstration and exploration of Baroque dance for CCS members and friends before the CWRU Baroque Orchestra/Dance performance. Julie sees "dance as a visual representation of the musical form, its phrases, its gestures, its uniqueness. It's music in 3-D. I like the challenge of embodying the music in this way, using subtle movements of not only the feet but also the eyes, hands, head, and subtle shading of the body to move the emotions of both performers and listeners." Gestural and rhythmic nuances of several Baroques dances will be explained and audience members will be invited to the stage to experiment with the "moves." (No worries, it's fine if you'd prefer to remain in your seat and simply observe.)  
Don't miss this wonderful opportunity to deepen your understanding of Baroque dance and inform your own musical decisions.  
CWRU Music Concert Series
The CWRU Music Concert Series and other special events presented in Harkness Chapel are free and open to the public unless otherwise noted. Can't be with us in person? No problem! View the Live Stream in Harkness Chapel channel on concert day. Visit the Upcoming Events page to enjoy future concerts, recitals, student groups, guest artists, talks, and more!
Venue and Parking Information >>
---
University Health and Counseling Services (UH&CS) is committed to protecting the health and well-being of our campus community. Masking is not required on campus, but those who wish to wear masks may do so. Individuals with symptoms of COVID, who have recently completed isolation for COVID, or who have been exposed to COVID should wear a well-fitting mask, as per CDC guidelines.