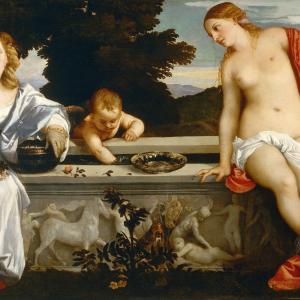 Sunday, November 20, 2022
4:00 PM
Florence Harkness Memorial Chapel
Event Details/Summary
Visit this page to view the concert program.
A symposium by French and German composers on the topic of love and all the complicated emotions that ensue. The passionate spell of love does not discriminate, whether it be mythological beings from Jean-Philippe Rameau's Orphée, or humanly lovers from Johann Christoph Bach's Meine Freundin, du bist schön. The shared experience by beings from different realms is best presented by Titian's painting, Sacred and Profane Love- a bride and Venus (human and celestial) sit on opposite ends of a well, while Cupid stirs the water in it.
Presented by the Historical Performance Practice Program.
CWRU Music Concert Series
This performance is part of the CWRU Music Concert Series. These events are free and open to the public. Can't be with us in person? No problem! You can still join us via livestream. View the channel below on concert day. 
Live Stream in Harkness Chapel
---
Individuals attending Case Western Reserve University events are expected to be fully vaccinated, including boosters if eligible. All visitors and members of the university may choose whether to wear masks indoors on campus, unless they are in clinical settings, including the dental clinic, or have received university approval for an exception. We encourage everyone in the campus community to respect individual choices to wear a mask. Please remember that those with COVID-19 symptoms should stay home. University leaders continue to monitor pandemic developments and will adjust health protocols as circumstances warrant. Learn more about CWRU's COVID-19 response.