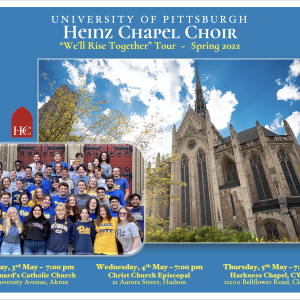 Thursday, May 5, 2022, 7:00 PM
Harkness Chapel, 11200 Bellflower Road
This concert is FREE and open to the public
Tickets are not required
The choir will perform masked
Visit this page for full program information. 
Founded in 1938, the Heinz Chapel Choir is an auditioned ensemble at the University of Pittsburgh comprised of students pursuing degree programs representing a broad range of academic areas. Led by their director, Dr. Susan Rice, the Choir returned to public performances in the Heinz Memorial Chapel on Pitt's campus in December 2021 and will sing its first performance tour since 2019 in Northeastern Ohio on May 3-5, 2022. Their spring program, We'll Rise Together, includes music by Ēriks Ešenvalds, Heinrich Schütz, Karl Jenkins, Jussi Chydenius and Morten Vinther. The Choir members are excited to share their music with you and hope you'll stay to chat with them at the conclusion of the performance.
Public Parking
Guests are encouraged to park in the Ford Drive Garage  (Lot 54) when visiting Harkness Chapel. This garage has 3 levels of above-ground parking and the public entrance is located between Euclid Ave. and Bellflower Rd. at 1980 Ford Drive Cleveland, Ohio 44106. The garage is public and shared amongst several buildings and daily rates charge up to $10 max.
Guests can also park in the Campus Center Parking Garage (Lot S-29) when visiting campus. This garage is underground and the public entrance is located at 11172 East Boulevard, Cleveland, Ohio 44106. The entrance located along Bellflower Road is for permit holders only. Guests without an access card will not be able to enter/exit from this location. The garage is public and shared amongst several buildings, including Severance Hall. Guests of The Cleveland Orchestra are given priority on performance nights. Special event rates will apply on those occasions. Otherwise, daily rates charge up to $10 max.
Street Parking
Street parking is also available on a first-come, first-serve basis on both Bellflower Road and East Boulevard. Please see the meter for applicable rates and time restrictions.
Additional Parking
Additional event parking is available at: 
University Circle parking lots
Museum garages (Cleveland Botanical Garden, Cleveland Museum of Art, Cleveland Museum of Natural History)
---
Individuals attending Case Western Reserve events are expected to be fully vaccinated, including boosters if eligible. Masks are not required at this time, but we respect the choices of those who elect to wear them. University leaders continue to monitor pandemic developments and will adjust health protocols as circumstances warrant.