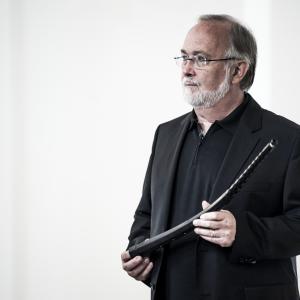 Wednesday, November 17, 2021, 7:30 PM
Event Details/Summary
This event celebrates the interdisciplinary legacy of Johannes Kepler (1571-1630) on the 450th anniversary of his birth. It also celebrates KSL Special Collections' acquisition of the 1621 edition of his Mysterium Cosmographicum on the 400th anniversary of its publication. Visit the Baker-Nord Center for the Humanities page for more information about the conference and to register. 
Collectively sponsored by the CWRU Baker-Nord Center for the Humanities, Kelvin Smith Library, Department of History, and Department of Music.
Across the Alps: Italian Music from the Time of Kepler
Renowned cornettist Bruce Dickey joins the CWRU Historical Performance Faculty Julie Andrijeski, Peter Bennett, Allison Monroe, Elena Mullins, Debra Nagy, and Jaap ter Linden in a program rich with musical inventions from Italy at the turn of the 17th century, the last decades in the life of the extraordinary astronomer and scientific thinker Johannes Kepler. Kepler lived in a time of religious and political strife. In the heavens he found harmony - the same harmony that he found in music, and that he hoped to foster on earth. Kepler didn't actively engage with the "New Music" being cultivated in Italy by Monteverdi and others. His focus was on an earlier generation of composers around Orlando di Lasso, in whose music he found a perfect polyphony mirroring the movements of the planets and a rhetorical expression of emotion in music. Yet he would certainly have been aware of these new musical currents which arose from the same rhetorical and polyphonic roots as those he pursued. 
Join us on our musical journey across the Alps from Kepler's Prague to experience a rare moment in musical history combining the celestial harmony that Kepler called "nature's secret whispering" with Italian passion through works by Giovanni Gabrieli, Giovan Paolo Cima, Gioseffo Guami, and others.
Free and open to the public. Directions and nearby parking options. 
---
Increasing COVID-19 cases within Northeast Ohio have prompted Case Western Reserve University to resume its requirement that masks be worn indoors. In addition, only those who are fully vaccinated (two weeks past their final dose) should attend any campus event. Leaders continue to monitor pandemic developments and may need to adjust health protocols further as circumstances warrant. In-person attendance is subject to change based on COVID-19 guidelines.