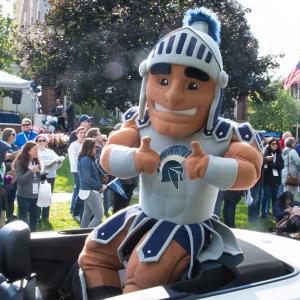 Saturday, October 8, 2022
11:00 AM - 1:00 PM
Linsalata Alumni Center
Spartan Tailgate and Spartie's Pre-Game Party
Join the Spartan community in front of the Linsalata Alumni Center (Juniper Road) between 11:00 AM - 1:00 PM for this reinvented pregame event with all-you-can-eat stadium food, the CWRU marching band, an open-air photo booth, balloon artists, games, and of course, Spartie!
---
1:00 PM
DiSanto Field
Football Game and Halftime Show
The Spartan Marching Band performs at halftime during CWRU Spartans vs St. Vincent Bearcats. Admission is free if you register for Homecoming Weekend. Parking is available in Garage S-46 for $7 per vehicle. 
2022 CWRU Football Season Schedule (all times Eastern)