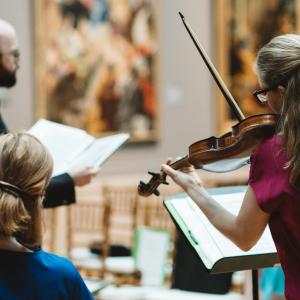 Sunday, November 7, 2021 4:00 PM
Location: Harkness Chapel
Program Information coming soon.
Free and open to the public. Paid parking is available in the Ford Avenue garage, Severance Hall garage, or at the meters along Bellflower Road and East Blvd
Increasing COVID-19 cases within Northeast Ohio have prompted Case Western Reserve to resume its requirement that masks be worn indoors. In addition, only those who are fully vaccinated (two weeks past their final dose) should attend any campus event. Leaders continue to monitor pandemic developments and may need to adjust health protocols further as circumstances warrant. In-person is subject to change based on COVID-19 guidelines.
---
About the Baroque Chamber Ensembles
Visit the Baroque Chamber Ensembles Page
The Baroque Chamber Ensembles are made up of diverse groups (6-8 per semester) ranging in size from three to eight players meet one to two hours per week to explore repertoire ranging from the late 16th century to ca. 1800. The ensembles generally perform one or two concerts per semester.  The chamber ensembles often collaborate in larger projects with other Case Western Reserve University ensembles such as the Baroque Orchestra, Collegium, and the Baroque Dance Ensemble.