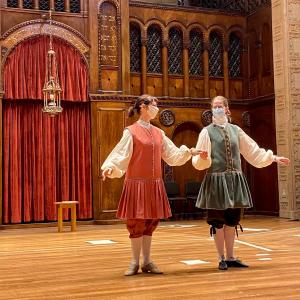 Tuesday, November 30, 2021, 7:30 PM
Milton and Tamar Maltz Performing Arts Center, 1855 Ansel Rd, Cleveland, OH 
Event Details/Summary
View the program information on this page. 
Lavishly costumed court dances intermix with intimate sacred and secular vocal music from convents, churches, and salons in this concert celebrating 18th-century Parisian culture at its height.
Julie Andrijeski, Director, Baroque Dance Ensemble
Peter Bennett, Director, Baroque Vocal Ensemble
Mark Laseter, Graduate Teaching Assistant
Guillermo Salaz Suárez, Dance Band Coordinator
This performance is part of the Maltz Performing Arts Center, Silver Hall Concert Series. These events are free, but registration is required. Parking passes may be purchased in advance for each performance for a nominal amount. Paid parking is available upon arrival in the MPAC lot.
Can't be with us in person? No problem! You can still join us via livestream. Reserve a livestream ticket in advance or view the channel below. 
Increasing COVID-19 cases within Northeast Ohio have prompted Case Western Reserve University to resume its requirement that masks be worn indoors. In addition, only those who are fully vaccinated (two weeks past their final dose) should attend any campus event. Leaders continue to monitor pandemic developments and may need to adjust health protocols further as circumstances warrant. In-person is subject to change based on COVID-19 guidelines.
---
About the Historical Performance Practice Program
Students in the Historical Performance Practice Program (HPP) at Case Western Reserve University are part of a small, highly selective, and fully funded experience for advanced students destined for leadership in the early music field. Our degree programs provide graduates with a wide range of marketable career-building skills while encouraging creativity and exploration. Using the skills they have acquired at CWRU, our graduates have gone on to take college-level academic positions with a strong performance component, historical performance ensemble leadership roles, and to enjoy successful performance careers.