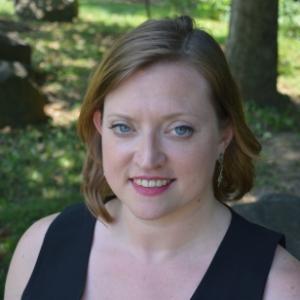 Friday, March 31, 2023
4:00 PM 
Harkness Chapel, Classroom
Keynote: Graduate Student Conference, "Playing the (Heart) Strings: Music, Wellness, and the Body"
Music colloquia provide a weekly forum for presentation and discussion of recent research by distinguished visitors and CWRU faculty and graduate students in musicology, historical performance practice, and music education.
All talks happen on Fridays at 4:00 PM (Eastern) in Harkness Chapel, Classroom, and are open to the public unless noted otherwise. 
About the Talk
"Play it Again, Yvonne: Radio Performance as an Embodied Technology of Hope, Love, and Friendship during World War II"
In 1943, Suzanne Cherbonnel-Prel wrote to her teacher, the virtuoso French pianist Yvonne Lefébure, declaring that "your radio broadcasts of the last two weeks give us the great joy of works splendidly performed and of your dear presence from afar." This letter is one of many in Lefébure's archives at the Bibliothèque Musicale LaGrange-Fleuret that emphasizes how Lefébure's radio broadcasts operated as a way for her students, family, and friends to stay in touch with her. Lefébure had escaped occupied Paris in 1940 to live in the small town near the Spanish border, Perpignan, where she lived with her German-Jewish partner, Fred Goldbeck, and her mother until further occupation of France necessitated Goldbeck's exile in Spain. Like her neighbor in Perpignan, Pablo Casals, Lefébure refused to perform on occupied French radio, even though radio offered her a significant medium for career success.
In this paper, I show how Lefébure employed radio as both a bodily, socio-emotional, and political technology during and immediately after World War II. I analyze letters, contracts, and radio broadcast scripts in Lefébure's vast but virtually untouched archive that demonstrate how Lefébure and those in her social circle understood and chose to utilize radio performances amidst the war's political and emotional turmoil. This paper not only highlights the political and social significance of radio piano performances during the war; it also sheds light on the life of a pianist who, though largely forgotten today, functioned as a beacon of solidarity and hope for many of her time.
About the Speaker
Jillian Rogers is Assistant Professor of Musicology at Indiana University. Jill's research on relationships between music/ sound and how people have historically experienced and coped with trauma appears in Nineteenth-Century Music Review, Music & Letters, and Transposition. Her interests in French modernism, affect and psychoanalytic theory, and sound studies, as well as trauma studies and performance studies, coalesce in her book Resonant Recoveries: French Music and Trauma Between the World Wars (OUP, 2021).
---
We strongly encourage all campus visitors to be fully vaccinated—including boosters if eligible. All visitors and members of the university may choose whether to wear masks indoors on campus, unless they are in clinical settings, including the dental clinic, or have received university approval for an exception. We encourage everyone in the campus community to respect individual choices to wear a mask. Please remember that those with COVID-19 symptoms should stay home. Learn more about CWRU's COVID-19 response.