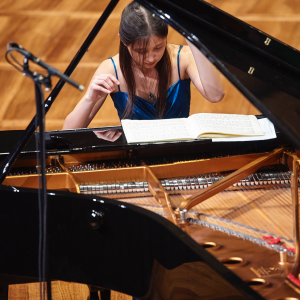 Friday, March 24, 2023
6:00 PM
Florence Harkness Memorial Chapel
Free and open to the public
Watch livestream
Event Details/Summary
Program coming soon!
Each spring, Case Western Reserve University undergraduate music majors compete in a recital format for an opportunity to perform as a soloist with Symphony Orchestra or Symphonic Winds the following academic year. The Department of Music is proud to offer this competition as an opportunity for our talented musicians to gain performance experience and receive public recognition for their work. 
Performers
Emma Bentley, clarinet (Dan Gilbert)
Sean Brown, piano (Gerardo Teissonnière)
Maxine Chou, cello (Bryan Dumm)
Lilyanne Dorilas, violin (Stephen Sims)
Chaehyeon Kim, flute (Heidi Ruby-Kushious)
Riley Kuhn, flute (Heidi Ruby-Kushious)
Hana Lee, flute Heidi Ruby-Kushious)
Moses Lee, piano (Shuai Wang)
Ella McLaren, bassoon (Mark DeMio)
Wesley Miller, piano (Sean Schulze)
Jesse Silverberg, horn (David Brockett)
Matthew Smutny, saxophone (Greg Banaszak)
Angela Tsang, piano (Sean Schulze)
Lavender Zhou, flute (Heidi Ruby-Kushious)
Anthony Zogaib, voice (Denise Milner-Howell)
CWRU Music Concert Series
This performance is part of the CWRU Music Concert Series. These events are free and open to the public. Can't be with us in person? No problem! View the livestream channel on concert day. 
Live Stream in Harkness Chapel
Past Winners
2022 | Michael Brough (saxophone), Grant Carr (piano), Jeremy Gray (clarinet), Hitomi Ono (flute), Gina Yang (piano)
2021 | Karen Ji (piano), Allison Siekmann (violin)
2020 | Samuel Chaffee (piano), Alexander Lenhart (trumpet), Nicholas Strawn (percussion), Rachel Beller (percussion)
2019 | Brian Liu (piano), Jon O'Brien (saxophone), Tim Orlando (violin), Nick Pogharian (trombone)
2018 | Julie Kim (violin), Bianca Pierson (saxophone), and Devin Reddy (horn)
2017 | Kieran Aulak (marimba), Tyler McMaken (piano), Jason Linn (trombone), Zoe Ruolin Yang (violin), Timothy Nicholas (violin)
2016 | David Hsiao (violin), Christina Liu (violin), Rebecca Pfeiffer (trumpet), Vincenzo Volpe (flute), Ann Wang (piano)
2015 | Ailin Yu (piano), Meigen Yu (piano), Robin Jo (violin)
---
We strongly encourage all campus visitors to be fully vaccinated—including boosters if eligible. All visitors and members of the university may choose whether to wear masks indoors on campus, unless they are in clinical settings, including the dental clinic, or have received university approval for an exception. We encourage everyone in the campus community to respect individual choices to wear a mask. Please remember that those with COVID-19 symptoms should stay home. Learn more about CWRU's COVID-19 response.