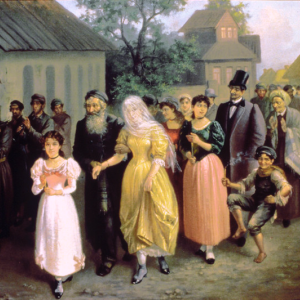 Thursday, December 9, 2021, 7:30 PM
Harkness Chapel, 11121 Bellflower Road Cleveland, OH
Event Details/Summary
Program information will be posted here on the day of the event.
A program of traditional East European Jewish folk music. Free and open to the public. Directions and nearby parking options. 
Increasing COVID-19 cases within Northeast Ohio have prompted Case Western Reserve University to resume its requirement that masks be worn indoors. In addition, only those who are fully vaccinated (two weeks past their final dose) should attend any campus event. Leaders continue to monitor pandemic developments and may need to adjust health protocols further as circumstances warrant. In-person is subject to change based on COVID-19 guidelines.
---
About the Klezmer Music Ensemble
Visit the Klezmer Music Ensemble Page
The Klezmer Music Ensemble is dedicated to learning and performing traditional East European Jewish folk music (Klezmer Music). This important genre of world music involves a specialized performance style, a unique repertoire, and chamber-music interaction. Class meetings will consist of two-hour sessions (once per week) culminating with performances to be scheduled each semester.
Photo: Painting by Aleksei Trankowsky (1847-1904) Jewish Wedding (late 19th century).