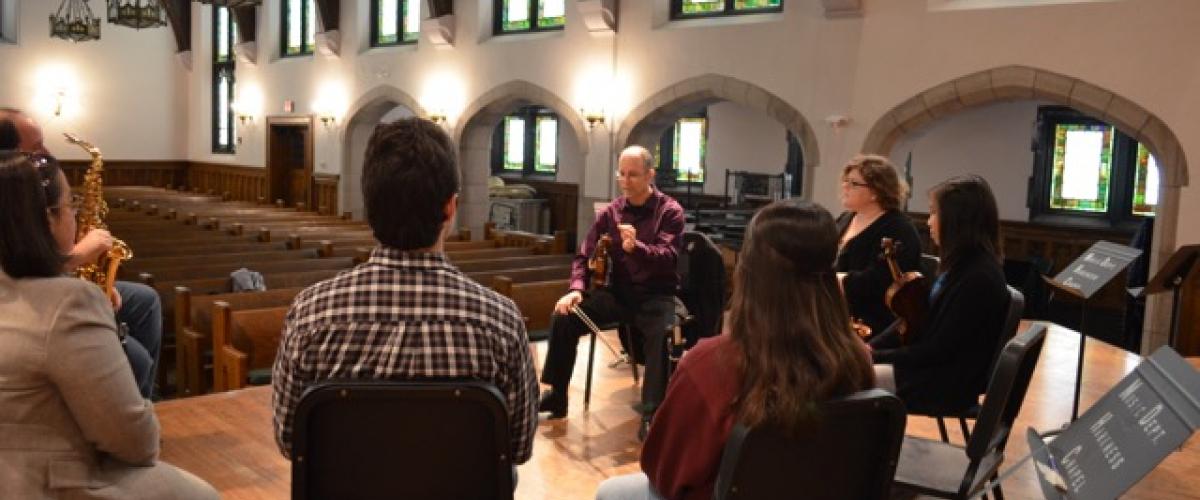 Director
Mr. Steven Greenman
Rehearsal Day/Time
Th, 7:00-9:00 PM
Rehearsal Location
Wade Rehearsal Hall
Participation Information
About
The Klezmer Music Ensemble is dedicated to learning and performing traditional East European Jewish folk music (Klezmer Music). This important genre of world music involves a specialized performance style, a unique repertoire, and chamber-music interaction. The ensemble presents one concert each semester. In addition to performing, students will be introduced to key concepts in Jewish culture and history, giving context to the music.
Director: Mr. Steven Greenman
Auditions
This ensemble is open to all CWRU and CIM instrumentalists and vocalists by audition. No prior klezmer music experience required. Auditions are held the first week of the semester during the class meeting time. Please contact the director for more information. 
Registration
Enrollment permissions are granted in the Student Information System (SIS) following a successful audition or during the first week of class. Once course permissions have been granted (before the Drop/Add period ends) students should return to their SIS account to register in the appropriate MUEN course. The Drop/Add Period ends on the 2nd Friday of each semester.
Students may choose to register in MUEN 371A (0.00 units) or MUEN 371B (1.00 units).
Performances
All performances held in the Maltz Performing Arts Center as part of the Silver Hall Concert Series or in Harkness Chapel as part of the CWRU Music Concert Series are live-streamed for free concurrently with the posted concert time. All concerts occur in eastern time.