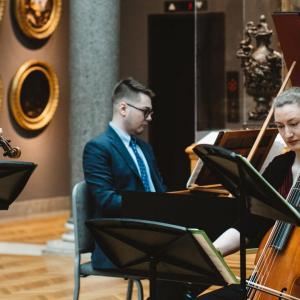 March 22, 2020 - 4:00 pm
Bach Cantatas
Location: Harkness Chapel
Vocalist from the HPP program will be featured alongside instrumentalists in this program of cantatas by Johann Sebastian Bach. With Debra Nagy, oboe.
Free and open to the public. Paid parking available in the Ford Avenue garage, Severance Hall garage or at the meters along Bellflower Road and East Blvd.
More information on Harkness Chapel and directions
Baroque Chamber Ensembles
View the Baroque Chamber Ensembles page.
Diverse groups (6-8 per semester) ranging in size from three to eight players meet one to two hours per week to explore repertoire ranging from the late 16th century to ca. 1800. The ensembles generally perform one or two concerts per semester.  The chamber ensembles often collaborate in larger projects with other Case Western Reserve University ensembles such as the Baroque Orchestra, Collegium, and the Baroque Dance Ensemble.