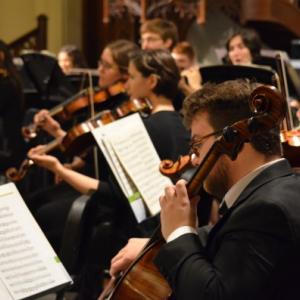 April 03, 2020 - 7:30 pm
Romanian Decadence
Location: Harkness Chapel
A performance featuring members of Earth and Air: String Orchestra.
Free and open to the public. Paid parking available in the Ford Avenue garage, Severance Hall garage or at the meters along Bellflower Road and East Blvd.
More information on Harkness Chapel and directions
Camerata Chamber Orchestra
View the Camerata Chamber Orchestra page.
The Case Camerata Chamber Orchestra (MUEN 386) is open to all Case Western Reserve University students, faculty, and community members by audition who play string instruments and desire to perform in a flexible but very high quality string instrumental music setting. The repertoire performed in this ensemble is wide ranging and drawn from a variety of smaller chamber genres that include pieces from the baroque, classical, romantic and contemporary stylistic periods.  Some of the pieces are conducted and others are rehearsed collaboratively by the group with coaching from the director. The group collectively decides the program and many pieces use soloists from within the group.  Additionally, there are opportunities for this group to collaborate with other ensembles in the Music Department including the Case Chorale, the Case University Circle Symphony Orchestra, and others.