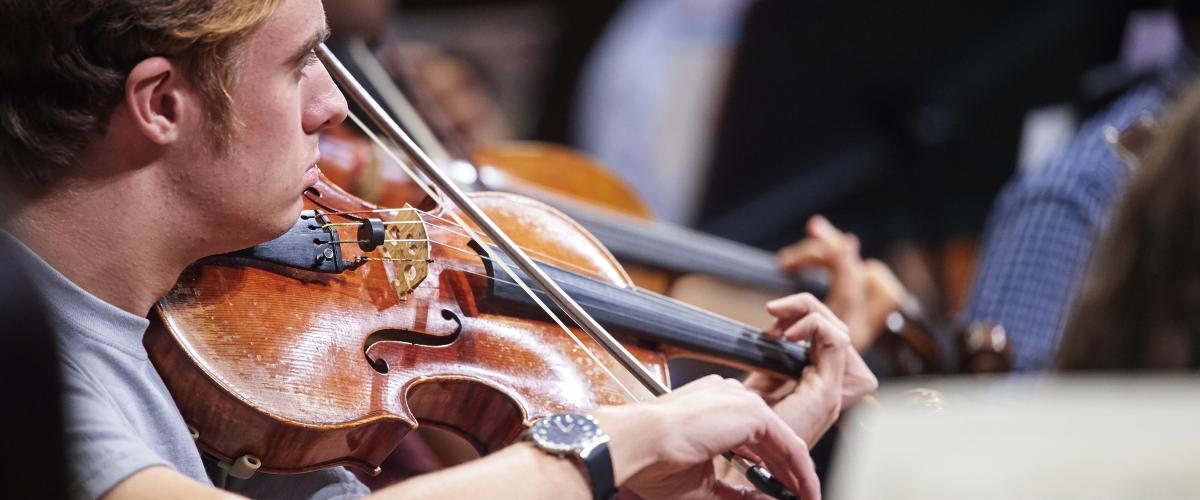 Director
George Nicholson
Rehearsal Day/Time
Tu, 7:00-9:00 PM
Rehearsal Location
Spartan Rehearsal Hall
Participation Information
About
The Case Camerata Chamber Orchestra is open to all CWRU students, faculty, and community members by audition who play string instruments and desire to perform in a flexible but very high-quality string instrumental music setting. The group rehearses once per week and performs once or twice per semester.
The repertoire performed in this ensemble is drawn from a variety of smaller chamber genres that include pieces from the baroque, classical, romantic, and contemporary periods. Some of the pieces are conducted and others are rehearsed collaboratively by the group with coaching from the director. The group collectively decides the program and many pieces use soloists from within the group. Additionally, there are opportunities for this group to collaborate with other ensembles in the Department of Music including the Case/University Circle Symphony Orchestra and Jazz Ensembles.
Director: Dr. George Nicholson
Course Documents and Schedule
Fall 2023 
Aug.: Non-music majors who play string instruments may choose their audition time USING THIS LINK. Music majors will receive an assigned audition time scheduled on Mon., Aug. 28.
Thu., Aug. 24: Ensembles Overview (Harkness Chapel, 3:00 PM) for new students Discover Week
Mon., Aug. 28: Fall Classes Begin; Auditions for music majors on strings/woodwinds/brass
Tue., Aug. 29: Auditions for non-majors
Wed., Aug. 30: Auditions for non-majors
Thu., Aug. 31: Auditions for non-majors
Tue., Sep. 5: Rehearsals Begin (Spartan Rehearsal Hall, 7:00-9:00 PM)
Fri., Sep. 8:  Drop/Add Period Ends Be sure you are registered!
Spring 2024
Tue., Jan. 16: Spring Classes Begin; Auditions for new members; Rehearsals Begin (Spartan Rehearsal Hall, 7:00-9:00 PM)
Fri., Jan. 26:  Drop/Add Period Ends Be sure you are registered!
Auditions
Auditions are required once per year and take place in-person during the first week of classes.
A fall semester audition also counts as an audition for the spring semester. However, new members can audition the first week of the spring semester.
All woodwind/brass/percussion players should follow the audition guidelines on the Symphonic Winds website.
All string players (non-music majors) should choose an audition time USING THIS LINK.
Audition Requirements
Scales: Major and Harmonic Minor Scales (2-3 octaves)
Prepared piece: Etude or solo piece that displays level of performance (not to exceed 3-minutes) 
String players only: Orchestral excerpts provided below
Audition Materials (Strings)
Registration
Enrollment permissions are granted in the Student Information System (SIS) following a successful audition or during the first week of class. Once course permissions have been granted (before the Drop/Add Period ends) students should return to their SIS account to register in the appropriate MUEN course. The Drop/Add Period ends on the 2nd Friday of each semester.
Performances
All performances held in the Maltz Performing Arts Center as part of the Silver Hall Concert Series or in Harkness Chapel as part of the CWRU Music Concert Series are live-streamed for free concurrently with the posted concert time. All concerts occur in eastern time.
---
FAQs
Visit the Symphony Orchestra (strings) or Symphonic Winds (woodwinds/brass/percussion) pages for a list of FAQs about auditions, registration, instrument storage, performances, and more!