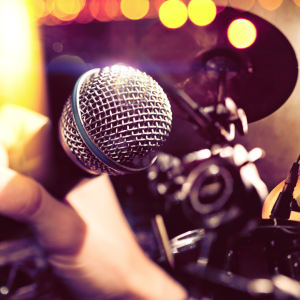 Thursday, April 13, 2022
8:00 PM
Florence Harkness Memorial Chapel
Free and open to the public
Watch the Livestream >>
Event Details/Summary
Join the popular voice majors from Joan Ellison's studio for an eclectic opening set of acoustic pop covers, jazz standards, musical theatre, and original songs. Stay for the second set, featuring the Popular Music Ensemble directed by Ken Wendt.
Popular Voice
Ms. Joan Ellison, Voice Faculty, Joint Music Program
Vocalists:
Cari Dupote-Fosnot is a freshman Music and Neuroscience major from Columbus, Ohio, and recently vocal-directed the CWRU Footlighters' production of Chicago. 
Leonard Lu is a sophomore studying Music and Psychology. He is from Guangzhou, a city in Southern China. In his free time, he likes to sing, write songs, and travel.
Andy Regli is a senior Electrical Engineering and Music dual degree student from Philadelphia, Pennsylvania. On campus they have been a part of Case in Point which is one of CWRU's all gender, competitive a cappella groups. In this group they have arranged many of their songs and held the position of music director for two years. Next year, they will be attending Trinity College Dublin pursuing a Masters of Philosophy in Music and Media Technology.
Mariana Tamayo is from the small island of Guam. Mariana will be graduating this May with a BS in Accounting and a secondary major in music. In the summer, she will be interning at Ernst & Young here in Cleveland and returning to CWRU in August to finish her Master of Accountancy degree. Whenever Mariana is back home, she loves to spend time with her family and dogs, bake cookies, and go to the beach with friends.
Popular Music Ensemble
The Popular Music Ensemble performs contemporary rock and other popular music, mostly repertoire of the students' choosing. Rehearsals are conducted as coaching sessions, usually without the use of written scores, and the semester culminates in a live performance and/or recording session.
Dr. Ken Wendt, Director
Musicians:
Rachel Ader, Vocals
Catherine Black, Vocals
Cameron Celebuski, Keys
Ethan Corriel, Keys
Cari, Dupote-Fosnot, Vocals
Gina, Huang, Keys
Edward Lou, Bass
Andrea Regli, Vocals
London Procop, Guitar
Mariana Tamayo, Vocals
Josh Wang, Drums
Leonard Lu, Vocals
Ryan Pollak, Bass and Vocals
Tyler Powers, Bass
Shivani Shah, Voice and Violin
Steven Yu, Voice
Alex Messier, Guitar
CWRU Music Concert Series
This performance is part of the CWRU Music Concert Series. These events are free and open to the public. Can't be with us in person? No problem! Watch the Livestream on concert day. 
---
We strongly encourage all campus visitors to be fully vaccinated—including boosters if eligible. All visitors and members of the university may choose whether to wear masks indoors on campus, unless they are in clinical settings, including the dental clinic, or have received university approval for an exception. We encourage everyone in the campus community to respect individual choices to wear a mask. Please remember that those with COVID-19 symptoms should stay home. Learn more about CWRU's COVID-19 response.