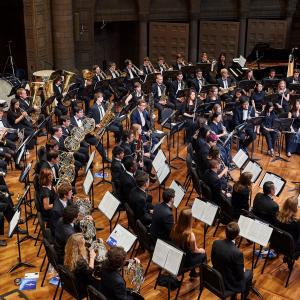 Friday, November 20, 2020, 7:00 PM
Livestream event from the Maltz Performing Arts Center
Reserve your (virtual) Tickets Here
Please join us virtually as the Symphonic Winds present their first virtual concert of the fall semester!
This broadcast performance is part of the Maltz Performing Arts Center, Silver Hall Concert Series, now sponsored by The Harry K. and Emma R. Fox Family Charitable Foundation. These events are free, but registration is required for some events.
---
Program
Low Brass Ensemble
The Circus Bee -- Henry Fillmore ( 1881-1956 ), arr. Will Roesch
Danse Bacchanale -- Camille Saint-Saens ( 1835-1921 ), arr. Avinash Mehta
Brass Choir
Fanfare: pour précéder "La PÉRI" -- Paul Dukas ( 1865-1935 )
Scherzo -- John Cheetham ( 1939-present )
Sonata Pian e Forte -- Giovanni Gabrieli ( 1557-1612 ), arr. Arthur Frankenpohl
Chamber Winds
Serenade in C minor, KV 388 -- Wolfgang Amadeus Mozart ( 1756-1791 )
Allegre
Andante
Menuetto in Canone
Allegre
Woodwind Choir
Bachianas Brasileiras No. 5, Aria Cantilena -- Heitor Villa-Lobos ( 1887-1959 ), arr. John Krance
Flute Choir
Candide Suite -- Leonard Berstein ( 1918-1990 ), arr. John Gibson
Scherzo from "A Midsummer Night's Dream"  -- Felix Mendelssohn ( 1809-1847 ), arr. Fabio Barnaba
... and more!
---
Symphonic Winds
View the Symphonic Winds page.
The CWRU Symphonic Winds, under direction of Dr. Ryan Scherber, is the University concert band open to all CWRU & CIM undergraduate and graduate wind, brass and percussion players by audition. This exceptional group of students is comprised of both music majors and non-majors.  Symphonic Winds is dedicated to the performance of the most advanced repertoire written for the wind band medium.