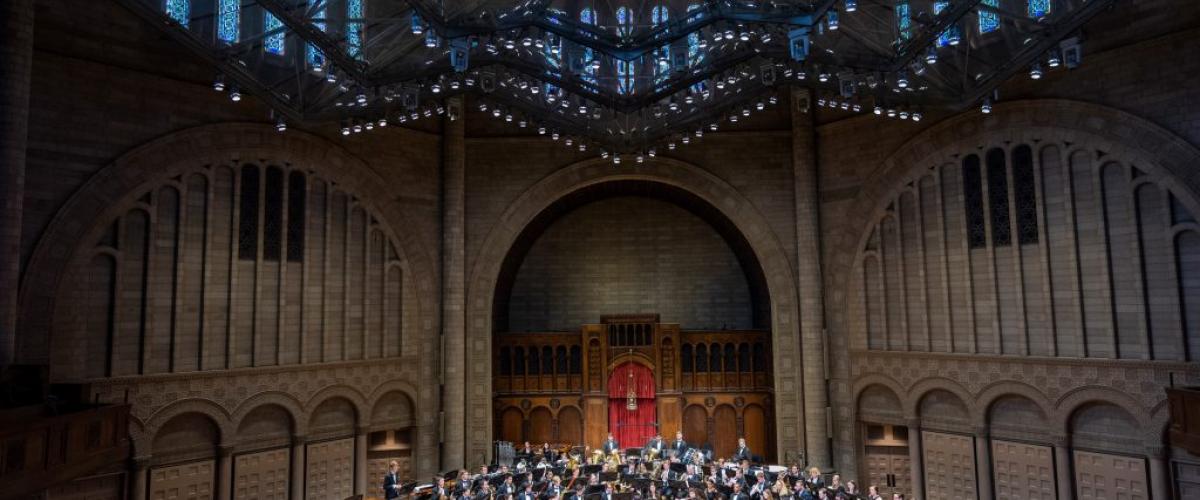 Director
Dr. Ryan Scherber
Rehearsal Day/Time
MW 7:00-8:30
Participation Information
Auditions required for new members.
The Case Western Reserve University Symphonic Winds, under direction of Dr. Ryan Scherber, is the University concert band open to all CWRU & CIM undergraduate and graduate wind, brass and percussion players by audition (see below for more detailed information).  An audition is required for seating and section placement each academic year.
This exceptional group of students is comprised of both music majors and non-majors.  Symphonic Winds is dedicated to the performance of the most advanced repertoire written for the wind band medium.  They rehearse 90 minutes per week on Monday and Wednesday evening from 7:00 to 8:30 pm and generally perform two to three concerts each semester.
Syllabus and Course Calendar:
Coming Soon
FAQs:
I want to audition for orchestra, where is that signup?

All wind and percussion players audition for Symphonic Winds and each semester a select list of wind and percussionists from those who audition will be assigned to play in orchestra only if winds and percussion members are needed during Fall 2020 due to COVID-19. Please note, most, if not all, orchestral ensembles will be strings-only. Bands participants will be divided into smaller, like-instrument or mixed groups as instrumentation allows

When is the first rehearsal?

The first rehearsal will be held during the THIRD week of classes (this is a change from previous years due to COVID-19)

What provisions are being made due to COVID-19?

As a large symphonic band type ensemble is not viable during a pandemic, all individuals who audition will be divided into smaller ensembles and assigned a rehearsal slot (based on your availability). Currently, ensemble setup is TBA based on auditions and course enrollment. Every effort will be made to work with your schedule and ensemble participation interests.
Health and safety protocols have been established based on the most current musician aerosol studies coming out of the University of Colorado at Boulder and data will be shared with students. Such data covers:

Specialized masks for playing (to be provided)
Bell covers (to be provided)
Appropriate distance between musicians
Appropriate maximum contact time in rehearsal and room clearing between groups for HVAC air clearing
Building entrance and egress protocols
Students may choose to participate in ensembles either in-person or remotely if the student chooses not to return to campus.

How do I register for the course?

Request course (MUEN-383, Section 100) permission in the CWRU Student Information System (SIS).  Course permission will be granted after an audition has been completed during the first week of school.  Permission requests will remain pending until the end of audition week

What is the difference between registering for 0, .5, or 1 credits?

This is a personal choice based upon each student's available credit load and preferences

Are instruments available?

CWRU will provide all percussion for those students enrolled in our ensembles.  Specialty and large instruments are available on a limited basis for use by those enrolled in our ensembles.

Those individuals wishing to check-out a school-owned instrument should contact Ms. Summer Canter, Coordinator of Ensemble Operations: sxc1398@case.edu

Where are practice rooms?

Practice rooms are available in the Wade/Denison Complex during posted open hours on a first-come, first-served basis

Is instrument storage available?

Lockers are available for music majors, minors, and those non-majors who participate in a Department ensemble.

When does Symphonic Winds perform?

The Symphonic Winds performance calendar will be provided at the first rehearsal.
AY 2020-2021 Audition Guidelines
Woodwinds & Brass
All wind players are asked to prepare two excerpts, one technical and one lyrical, that demonstrate technical facility, musicality, and overall control of the instrument.  Each selection should be approximately 2-3 minutes in duration.
Major or minor scales may be asked at the discretion of the adjudicator and should be performed articulated over two octaves as possible.

If submitting a remote audition, scales are not asked. Please make sure your video is a true representation of your performance technique, especially range.
Percussion
Percussionists should plan to prepare both a mallet (four-hands if possible) excerpt as well as a snare excerpt.  Students are also encouraged to prepare a timpani excerpt should they wish to be assigned timpani parts during the course of the academic year.
Scales and rudiments may be asked at the discretion of the adjudicator.