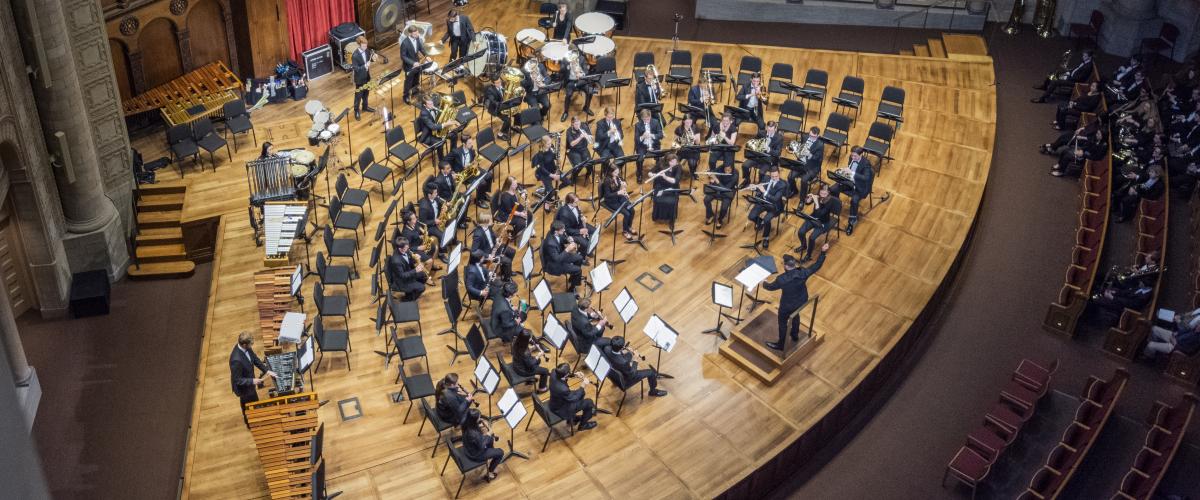 Director
Dr. Ryan Scherber
Rehearsal Day/Time
MoWe, 7:00-8:30 PM
Rehearsal Location
Spartan Rehearsal Hall
Participation Information
About 
The Case Western Reserve University Symphonic Winds is the umbrella organization for all concert wind band ensembles at CWRU. Any wind or percussion instrument player from CWRU or CIM as well as alumni and select community members are welcome to join. The ensemble generally performs two or three times per semester. Participation is primarily within the main Symphonic Winds Ensemble, a traditional concert band setting open to all interested musicians. At certain times, a select group of musicians may be selected to participate in the CWRU Chamber Winds or CWRU Wind Orchestra when needed based on the repertoire to be performed. These ensembles are traditionally one player per part and rehearse during the same rehearsal times as Symphonic Winds when these ensembles are in operation.
Please visit and follow our CWRU Bands Facebook page for concert event pages and other information.
Director: Dr. Ryan V. Scherber, Director of Bands
Course Documents and Schedule
Syllabus
Spring Semester 2024 (posted soon)
Course Calendars
Please add these dates to your calendar now to avoid future conflicts:
Absence Request Form
Students may request an absence from a regularly-scheduled rehearsal using the form linked below, but should review the attendance policy in the provided syllabus (below) first. Per the syllabus, dress rehearsals, soundcheck, and concerts are required and not available for absence requests. 
Please note, email requests will not be accepted.
If you wish to submit an absence request, please use the form HERE
Participation and Placement
All wind and percussion players interested in performing with either Symphonic Winds or the Symphony Orchestra should plan to complete a single audition, at the start of the academic year, following the guidelines below on this page. All auditioning musicians are considered for membership in both ensembles. As orchestral literature is traditionally performed with one musician per part, this repertoire requires confident and highly musical players. As such, there are limited wind and percussion slots available. These parts will be given to only the highest level performers based upon their Symphonic Winds audition. In order to give as many wind players the opportunity to perform in the Symphony Orchestra as possible as well as maintain musical excellence across our primary ensembles, students will rotate between Symphonic Winds (which rehearses at the same time) and Symphony Orchestra by semester. These ensemble assignments will be emailed to those auditioning by the end of the audition period and before the end of the Drop/Add Period during fall semester. Under certain circumstances, some students will be assigned to play with both ensembles during one semester, however great care will be given to the student's rehearsal schedule to be respectful of their time. If a student is assigned to both ensembles within one semester, detailed instructions will be sent to the student pertaining to rehearsal schedule and course registration by directors of both ensembles. Wind and percussion assignments for Symphony Orchestra are decided for the full year during fall semester auditions. Spring auditions are only for CWRU Symphonic Winds.
Auditions
All interested students will need to perform an audition:
Woodwinds & Brass
Prepare 2 excerpts (one technical and one lyrical) that demonstrate technical facility, musicality, and overall control of the instrument. Each selection should not exceed 3-4 minutes.
Major scales, in 2 or 3 octaves where possible, may be asked at the discretion of the Director. Tempo and rhythm are at the preference of the student.
Percussion
Prepare both a mallet (four-hands if possible) excerpt and a snare excerpt; a timpani excerpt is recommended if you wish to be assigned timpani parts during the course of the academic year.
Scales and rudiments may be asked at the discretion of the adjudicator. Tempo and rhythm for scales are at the preference of the student.
Audition Scheduling Links
A fall semester audition for Symphonic Winds also counts as an audition for the Symphony Orchestra as our wind and percussion majors rotate between both primary ensembles based on audition. Spring ensemble assignments are created based upon the fall audition. For those wishing to audition in spring semester, please visit the following link to audition for the CWRU Symphonic Winds:
Please click HERE to schedule your audition.
Registration
Enrollment permissions are granted in the Student Information System (SIS) following a successful audition or during the first week of class. Once course permissions have been granted (before the Drop/Add period ends) students should return to their SIS account to register in the appropriate MUEN course. The Drop/Add Period ends on the 2nd Friday of each semester.
Director:
Dr. Ryan V. Scherber
MUEN 383-100: Symphonic Winds
MoWe 7:00-8:30 PM (Spartan Rehearsal Hall)
0-1 units
MUEN 383-101: Symphonic Winds
TBA (Location: TBA)
0-1 units
This section is for students rotating between both Symphonic Winds and Symphony Orchestra. This section should only be used when directed to do so by the ensemble instructor.
Performances
All performances held in the Maltz Performing Arts Center as part of the Silver Hall Concert Series or in Harkness Chapel as part of the CWRU Music Concert Series are live-streamed for free concurrently with the posted concert time. All concerts occur in eastern time.
---
FAQs
When are auditions?
Auditions take place during the first week of the fall semester. Students who did not audition during fall semester, but wish to participate during spring semester may audition the day before the start of spring term. 
Can wind and percussion players audition for Symphonic Winds and Symphony Orchestra?
All wind and percussion players audition for Symphonic Winds. Each semester, a select list of wind and percussionists from those who audition will be assigned to play in Symphony Orchestra only if winds and percussion members are needed. 
When is the first rehearsal?
Because auditions take place during the first week of classes and the faculty will need to staff small groups and choose repertoire, the actual first rehearsals will take place beginning the second week of classes.
Are graduate students able to participate?
Absolutely! We welcome students from all programs and degrees. Following your audition, please discuss course registration with Dr. Scherber to follow the appropriate process with your respective school.
I have a course conflict during fall semester, am I still able to participate during spring semester?
Yes. While we certainly hope you would consider performing with us all year, we will hold auditions at the beginning of spring semester for those wishing to join halfway through the year. This date will be listed on the spring semester course calendar when it is posted. Please note, only those who audition in the fall and perform for an entire academic year are able to be considered for a semester placement in the Case/University Circle Symphony Orchestra
How do I register for the course?
Request course permission in the Student Information System (SIS). Course permission will be granted after an audition is completed during the first week of class. Once you are "granted permission" you will need to go back into SIS and complete your registration. 
What is the difference between registering for 0.0, 0.5, or 1.00 credit units?
Most academic ensembles (MUEN) are offered at variable credit to allow students the choice based on total credit load and personal preference. Music majors should check their academic requirements before selecting the credit amount. 
Where are practice rooms?
CWRU music majors and students enrolled in music ensembles (MUEN) or applied music lessons (MUAP) are provided access to Haydn Hall and/or Denison Hall practice rooms. Please review our Policies and Operating Procedures for more information. 
Will I have after-hours building access?
All music majors and CWRU students enrolled in ensembles or lessons will automatically be activated for card swipe/after-hours access to Denison Hall and Haydn Hall. Card swipe access will begin the first day of orientation for music majors and the Monday after drop/add for non-majors. Denison Hall operates on extended hours during the first two weeks of each semester. Please check in with the building monitor on staff if you have questions.
Is instrument storage available?
The Department of Music will make instrument storage lockers available to music majors and non-majors currently enrolled in official CWRU Department of Music ensembles, following established university guidelines and policies. Please see the following website for policies and procedures as well as to request a locker: Instrumental Locker Policies and Requests
What is the required concert attire?
All black, please dress professionally. Please refrain from wearing anything inappropriate or that which may distract from the performance. Professional dress includes formal footwear.
When does the ensemble perform?
The performance schedule and syllabus will be distributed during the first week of class. Performances during the regular academic year are scheduled in advance and held in the Maltz Performing Arts Center as part of the Silver Hall Concert Series or in Harkness Chapel as part of the CWRU Music Concert Series.