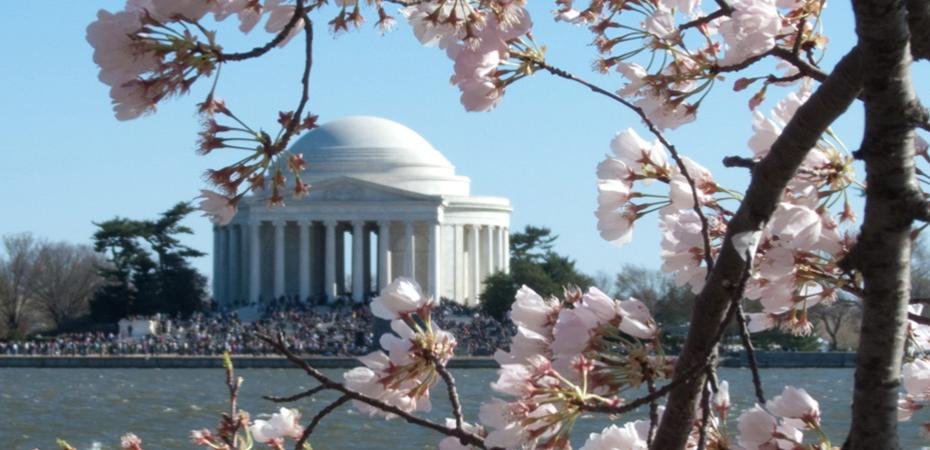 Life in Washington DC
Washington Hospital Center (Obstetric Anesthesia Rotation)
A typical day starts at 7am, but I usually arrived 15-30 minutes earlier to get updated on the previous evening's events by the overnight anesthetist. Afterwards, it's time to set up the ORs, ensuring that the machine, equipment, monitors, and emergency drugs are ready to go because who knows when an OB emergency will occur. In addition to the ORs, the epidural carts used for laboring patients are also checked to make certain that they are fully stocked and equipped with emergency drugs as well. These responsibilities are usually shared with the SRNA (Student Registered Nurse Anesthetist) and senior resident (CA-3) who are also rotating for the month.
At 8am, it's time to go to the "huddle," where all the OB staff meet and discuss scheduled cases, laboring instructions, and the status of all the patients. These huddles occur every few hours and the anesthesia day team (consisting of the attending anesthesiologist, senior resident, 2nd year AA-S, SRNA, and sometimes an CAA) tries to attend. Cases for the day may include scheduled Cesarean sections, cerclage placements, tubal ligations, and the occasional emergent C-section. The caseload is divided, giving each individual a turn to manage his or her own case. In between cases there will be labor epidurals to place, new patients to evaluate, post-operative patients requiring follow-up, and laboring patients with active epidurals that need to be checked. Before you know it 12 hours have gone by and it's 7pm. The night anesthetist arrives and you give a report about the day's activities, pending epidurals and upcoming cases.
The AA-S will always work either one-on-one with the attending, senior resident, or CAA for all procedures. Rotating through OB is a great experience because you get to interact with and take care of an entirely different patient population than "normal": pregnant and awake. OB is definitely different and the days can be busy and long, but it will always feel rewarding to help mothers-to-be feel more comfortable and to help families welcome a brand new person into the world.
Washington, D.C., formally the District of Columbia and commonly referred to as Washington, "the District", or simply D.C., is the capital of the United States. On July 16, 1790, the Residence Act approved the creation of a capital district located along the Potomac River on the country's East Coast. The choice of Washington's site along the Potomac and Anacostia Rivers resulted from a compromise between Alexander Hamilton and northern states who wanted the new federal government to assume Revolutionary War debts, and Thomas Jefferson and southern states who wanted the capital placed in a location friendly to slave-holding agricultural interests. As permitted by the U.S. Constitution, the District is under the jurisdiction of Congress and is therefore not a part of any state.
The states of Maryland and Virginia each donated land to form the federal district, which included the preexisting settlements of Georgetown and Alexandria; however, the Virginia portion was returned in 1846. Named in honor of George Washington and Christopher Columbus, the City of Washington was founded in 1791 to serve as the new national capital.
Washington, D.C., had an estimated population of over 600,000, the 25th most populous area in the United States. Commuters from the surrounding Maryland and Virginia suburbs raise the city's population to more than one million during the workweek. The Washington Metropolitan Area, of which the District is a part, has a population of 5.7 million, the seventh-largest metropolitan area in the country.
The centers of all three branches of the federal government of the United States are in the District, including the Congress, President, and Supreme Court. Washington is home to many national monuments and museums, which are primarily situated on or around the National Mall. The city hosts 176 foreign embassies as well as the headquarters of many international organizations, trade unions, non-profit organizations, lobbying groups, and professional associations. After more than 200 years as the nation's capital, Washington is brimming with a unique history of its own. It has developed as a complex and layered city with multiple personalities. As home to the federal government, it has attracted a diverse mix of government workers, members of Congress from every state, foreign emissaries, lobbyists, petitioners and protestors. While elected and appointed officials come and go giving the city its reputation as a transient community, many of the city's residents have called Washington home for multiple generations. Their stories give Washington its distinctive character as both a national and local city.
Washington is also a cosmopolitan city. While it has always had foreign delegations from the countries of the world, it also boasts an increasingly diverse ethnic population. A growing Latino population represents every Central and South American country with a particularly large community of Salvadorans. A large Ethiopian population has resulted from the political turmoil there. New ethnic groups have brought new restaurants, as well as new residents. While DC lost residents to surrounding suburbs in the 1990s, new housing and urban revitalization is now attracting people back to the city for a downtown renaissance of housing, offices, entertainment and nightlife.
The National Mall, encompassing the area between the Lincoln Memorial and the US Capital building, is a two-mile long national park. Besides being the center of important historic events, such as the 1968 March on Washington, it is a vibrant center of activity and cultural events. Fourth of July features live concerts and spectacular fireworks. Each Summer, the Smithsonian Folklife festival hosts hundreds of musicians, artists, craftsmen, and storytellers from around the World for two weeks to share their cultures in performances and close gatherings.
Learn more about Smithsonian Folklife festival.
Although Washington DC is home to the Federal government and national cultural treasures, it is also a vibrant urban community rich in sporting events, theater, music, and art. It is one of the most ethnically diverse cities in the US; cultural festivals from around the world take pace throughout the calendar year. Diverse neighborhoods providing architectural interest, specialty shops, restaurants, and local music and art include Georgetown, Capitol Hill, Embassy Row, Navy Yard, Anacostia, Adams Morgan, U-Street, Penn Quarter, Chinatown, and Dupont Circle.
Find out more about the Diverse Neighborhoods of Washington.
The Smithsonian Institution is a complex of research facilities, 19 national museums (16 of which are in Washington DC), and the National Zoological Park. The World-class museums of art, crafts, history, photography, natural history, and culture are free of admission charges and open every day except Christmas.
Learn more about Smithsonian Institution.
Did you know Washington DC was selected by Bicycling magazine as one of the top 15 bicycle-friendly cities in the US? Dedicated pedestrian/bicycle trails coursing through Rock Creek Park and adjacent areas connect to many other short trails, as well as those that extend 18 miles south to Mount Vernon, 42 miles West to Purceville VA and 182 miles north to Cumberland Maryland along the C&O canal. Washington has also been actively engaged in developing new urban bike routes along its streets.
Washington Area Bicyclist Association
The Kennedy Center, which serves as the home for the National Symphony, the Washington Ballet and the Washington Opera, and hosts hundreds of visiting performance groups each year, also hosts free concerts in the Millenium Hall every day at 6pm. Concerts feature well-known musicians and performers, as well as accomplished regional and ethnic artists.
Check Kennedy Center Schedule.
Adams Morgan is a colorful and vibrant historic neighborhood rich with restaurants, specialty shops, cafes, art galleries and lively night life.
The U Street Corridor, adjacent to Adams Morgan, is a 9-block section of the Shaw neighborhood which concentrates shops, galleries, and performance venues. Near Howard University, U street is home to Washington's music scene (including the Howard theater, the Lincoln Theater, and a variety of well-known music and dance venues such as the 9:30 club, the Black Cat, and DC9). Ben's Chili Bowl is a famous must-visit eatery that has hosted Bill Cosby, Duke Ellington, Ella Fitzgerald, Nat King Cole, Redd Foxx, Martin Luther King Jr., and Barak Obama.
To know more about U Street Corridor.
There are over 1,700 restaurants in Washington DC, representing virtually every variety you might seek in style, price and ethnicity. Where to eat? Fortunately, the CWRU DC staff has several experts in this arena who would be very excited to help you with your culinary adventures!