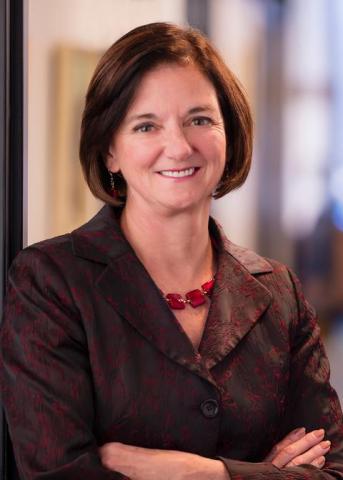 Mary E. Kerr, PhD, RN, FAAN
Dean of the Frances Payne Bolton School of Nursing and May L. Wykle Endowed Professor
mek55@case.edu
216.368.2545
Welcome to the School of Nursing
Mary E. Kerr, PhD, RN, FAAN (GRS '91, nursing), is the dean of the Frances Payne Bolton School of Nursing at Case Western Reserve and the inaugural holder of the May L. Wykle Endowed Professorship in Nursing. She joined Case Western Reserve University in July 2011, after six and a half years as deputy director of the National Institute of Nursing Research (NINR) at the National Institutes of Health.
While at the National Institute of Nursing Research, she partnered with Patricia Grady, PhD, in planning, directing and managing the agency's programs and resources. She played a leading role in the development of NINR's strategic plans and advocated for increased interdisciplinary research.
Prior to her position at NINR, she served as the University of Pittsburgh Medical Center (UPMC) Health System Chair in Nursing Science in the School of Nursing at University of Pittsburgh. She held a primary appointment of professor in the Department of Acute & Tertiary Care Nursing in the School of Nursing and a secondary appointment in the Department of Neurological Surgery in the School of Medicine. Dr. Kerr was also the associate director, Clinical Core, Brain Trauma Research Center at UPMC.
As a faculty member at University of Pittsburgh, Dr. Kerr served as the director of the Center for Nursing Research, where she mentored junior investigators, sponsored research activities and advised, taught and supervised research of undergraduate, graduate, master's and doctoral students. In recognition of her teaching skills, Dr. Kerr received the University of Pittsburgh School of Nursing Dean's Distinguished Teaching Award in 1996.
She has received numerous honors and awards throughout her career. In 2004, she received the University of Pittsburgh School of Nursing Outstanding Alumni Award. She received the Excellence in Nursing, Nightingale Award of Pennsylvania for Nursing Research in 2002 and the Distinguished Research Lectureship Award from the Eastern Nursing Research Society in 2001. She is also a Fellow in both the American Academy of Nursing and in the American College of Critical Care Medicine.
In addition to authoring and coauthoring more than 100 scholarly research papers and publications, Dr. Kerr serves as manuscript reviewer for multiple professional medical and nursing publications. She participated in a number of scholarly review activities for the National Institutes of Health, such as a permanent reviewer for the Adults and Older Adults Study Section of Center for Scientific Review, and an ad hoc reviewer for several other divisions of CSR. Recently she participated in the Research Themes Meeting on Public Access, chaired by NIH Director Elias A. Zerhouni, MD, and involving various NIH investigators.
Dr. Kerr received her PhD in nursing from Case Western Reserve. She holds additional degrees from Slippery Rock University of Pennsylvania and University of Pittsburgh.