News
Monday-Friday, find CFRS staff on the second floor of the Health Education Campus, 9501 Euclid Avenue, Cleveland, OH 44106-7343, in Room 233F.
You can also find a CFRS staff member at the Health Research Campus, 2120 Cornell Road, Cleveland, OH 44106-4904, Tuesdays and Thursdays from 8 am until 4:30 pm. Drop-ins are welcome! We are on the second floor right off the elevators.
Events & Policy Updates
The Center for Research sponsors seminars and policy workshops throughout the year to help faculty, staff and students stay up-to-date with the latest federal funding requirements and research news. The Goldbag Research Seminar Series, which occurs twice a month during most of the academic year, highlights research findings and accomplishments of school of nursing and other researchers from across campus and Northeast Ohio. Also, check out NIH's "Open Mike" for an informative blog about NIH.
Research Seminars & Events  Grant Policy Updates   NIH's "Open Mike" Blog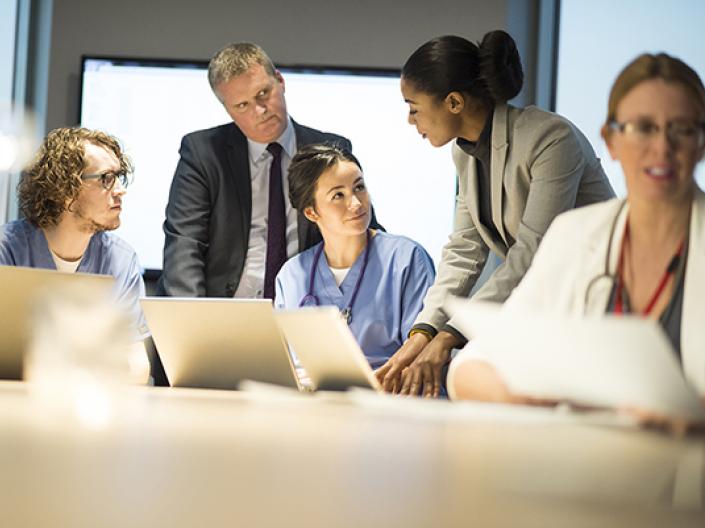 Grant Development & Post-Award Services
CFRS provides researchers at FPB with assistance in administration and support of existing and new research. This assistance includes monthly updates on funding opportunities and personalized funding searches, grant development and application services, and post-award activity monitoring from set up to close out.
Compliance & Credentialing (IRB, CREC Training)
CWRU researchers are responsible for complying with federal, state, and local regulations related to research. Research compliance refers to a broad range of topics, including IRB, required research education, credentialing, documentation of research processes and policies. 
Editing Resources
Faculty and postdoctoral fellows can take advantage of editing services, including a CFRS in-house editor and useful online resources.
Data Management
FPB researchers have access to internal data management consultation services that follow all phases of the research life cycle.
CFRS Contacts
Contact the Center for Research & Scholarship:
Main Email: cfrs@case.edu
Poster Printing
CFRS is the one-stop-shop for questions about academic posters and printing. Check out our Poster FAQs.