Nursing Innovation and Leadership at the Frances Payne Bolton School of Nursing
---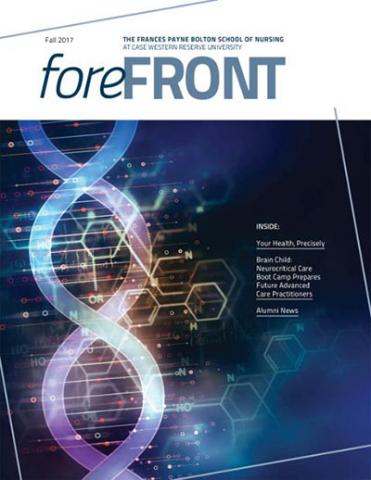 Fall 2017
In this Issue
Your Health, Precisely
Nursing has long occupied a unique position in health care around the globe, combining expertise in clinical research with commitment to patient well-being. Now, with unprecedented technology and data collection tools, the health care industry is turning to nurse scientists to lead with a new approach that treats the individual as much as the illness—precision health.
Brain Child
Neurocritical Care Boot Camp Prepares Future Advanced Care Practitioners
In Pursuit of Nursing Research
Four post-doctoral fellows share inspiration and advice
Endless Possibilities for STTI and Liz Madigan
Alumni spotlight on Elizabeth Madigan, PhD, RN, FAAN (GRS '92)
---
This publication is produced for the alumni and friends of the Frances Payne Bolton School of Nursing at Case Western Reserve University. The Forefront mission is to inform readers about the school's excellence in nursing science, education and practice and how it impacts daily lives.
Forefront is produced by the Department of Marketing and Communications. To submit a story idea, letter to the editor, or comment, please email fpbmarketing@case.edu.