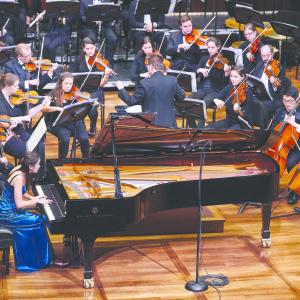 Monday, October 11, 2021 7:30 PM
Location: Maltz Performing Arts Center, Silver Hall
Program Information coming soon.
This performance is part of the Maltz Performing Arts Center, Silver Hall Concert Series. These events are free, but registration is required. Parking passes may be purchased in advance for each performance for a nominal amount. Paid parking is available upon arrival in the MPAC lot.
Increasing COVID-19 cases within Northeast Ohio have prompted Case Western Reserve to resume its requirement that masks be worn indoors. In addition, only those who are fully vaccinated (two weeks past their final dose) should attend any campus event. Leaders continue to monitor pandemic developments and may need to adjust health protocols further as circumstances warrant. In-person is subject to change based on COVID-19 guidelines.
---
About the Case/University Circle Symphony Orchestra
Visit the Case/University Circle Symphony Orchestra page

The Case/University Circle Symphony Orchestra (MUEN 385) is open to all Case Western Reserve University students, faculty, and community members by audition who play a woodwind, brass, percussion or string instruments and who desire to perform in a high level ensemble.  The group rehearses twice per week for a total of 90 minutes and performs 5 to 7 concerts per academic year.  The repertoire is drawn from standard orchestral literature comprised of symphonies, overtures, suites, etc.  as well as other more contemporary genres such as Rock and Jazz.  The ensemble also works in collaboration with the Case Concert Choir, Case Jazz ensembles, and other University Circle affiliated groups.