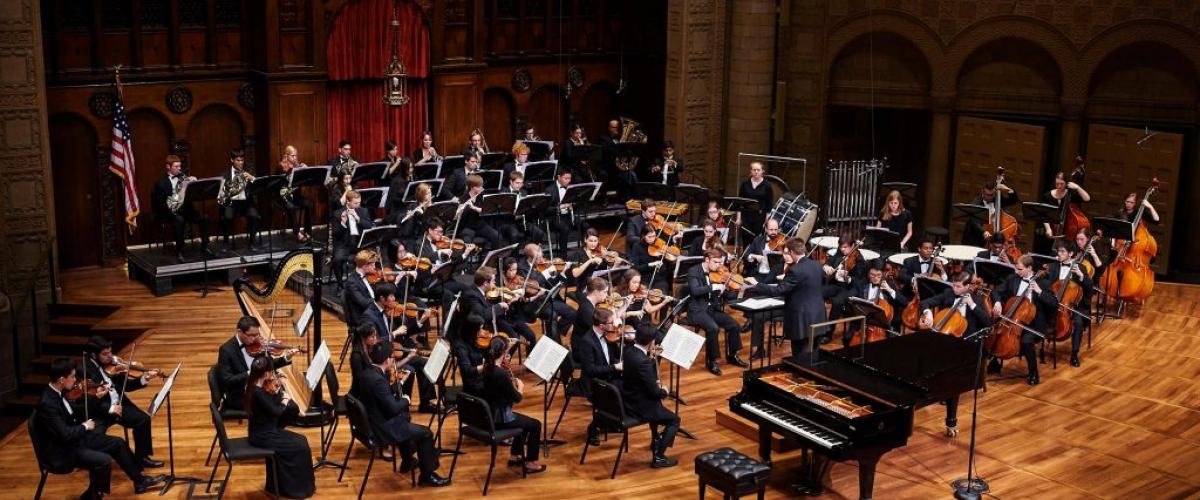 Director
Dr. Kathleen Horvath
Rehearsal Day/Time
MoWe, 7:00-8:30 PM
Rehearsal Location
Wade Rehearsal Hall
Participation Information
About Us
The Case/University Circle Symphony Orchestra is open to all CWRU students, faculty, and community members who play woodwind, brass, percussion or string instruments, and who desire to perform in an advanced ensemble.
The group rehearses a total of 3 hours per week divided into two 90 minute rehearsals.  Generally, the ensemble performs 5-7 concerts each academic year.  Performances are generally held in the Maltz Performing Arts Center as part of the Silver Hall Concert Series.  Performance repertoire is drawn from standard orchestral literature comprised of symphonies, overtures, suites, etc., as well as other more contemporary genres such a rock and jazz. The ensemble also works in collaboration with the Case Concert Choir, Jazz Ensembles, and other University Circle affiliated groups.
Performance in this group requires a full commitment because the repertoire demands individual practice in addition to the regular groups rehearsals; some of the performance responsibilities (i.e. dress rehearsals and concerts) are held outside of the regular class meeting pattern.
---
Repertoire
Repertoire that has been performed by the Symphony Orchestra since 2001
---
Instructional Format (2021-22)
CWRU continues to work on plans for our return to campus in-person this fall. Details pertaining to operational plans can be found on the ensembles general information page. 
Details
Rehearsals will begin on Monday, August 30 for the fall semester and Monday January 10 for the spring semester

Auditions for Fall Semester 2021 take place during the first week of classes following this schedule:

Monday, August 23: MUSIC MAJORS as assigned 

Tuesday, August 24: Any interested Non-Music Student

Wednesday, August 25: Any interested Non-Music Student

Thursday, August 26: Any interested Non-Music Student

Auditions for Spring Semester 2022 take place on Monday January 10, 2022

The Rehearsal and Performance Schedule (course calendar for the 2021-22 academic year) 

Syllabus: posted here in early August
---
Ensemble Rotation for Wind and Percussion Players
All wind and percussion players interested in performing with either Symphonic Winds or the Case/University Circle Symphony Orchestra should plan to complete a singular audition following the audition guidelines listed on the Symphonic Winds ensemble page. All auditioning players are considered for membership in both ensembles. As orchestral literature is traditionally performed with one musician per part, this repertoire requires confident and highly musical players. As such, there are limited wind and percussion slots available. These parts will be given to only the highest level performers based upon their Symphonic Winds audition. In order to give as many wind players the opportunity to perform in the Symphony Orchestra as possible as well as maintain musical excellence across our primary ensembles, students will rotate between Symphonic Winds (which rehearses at the same time) and Symphony Orchestra by semester. These ensemble assignments will be emailed to those auditioning by the end of the audition period and before the add/drop period ends. Under certain circumstances, some students will be assigned to play with both ensembles during one semester, however great care will be given to the student's rehearsal schedule to be respectful of their time. If a student is assigned to both ensembles within one semester, detailed instructions will be sent to the student pertaining to rehearsal schedule and course registration by directors of both ensembles.
Similarly, the string section is also very competitive and in order to maintain the highest quality performance for this kind of orchestral literature, the string section must be balanced so as to maintain section clarity.  As a result, most first-year students will be assigned to the Case Camerata Chamber Orchestra (MUEN 386 ) until slots are available in the Symphony Orchestra.
---
Auditions
All orchestral ensembles require an audition once per year. You may audition in the fall even if you don't plan on enrolling until the spring. Or you may choose to audition in the spring if that is easier.  
All Auditions will take place 
If you planning on enrolling in Symphony Orchestra as a "fully remote" offering you will be required to take a remote audition.
Audition materials including requirements and excerpts are listed below.
Electronic Audition Scheduling
Beginning August 2, 2021 non-music majors who play string instruments may choose their audition time during the first week of classes HERE. Music majors will receive their audition time from Dr. Horvath. All wind and percussion players should choose an audition time from the Symphonic Winds website.
Audition requirements (string players only)
Scales: 2-3 octave Major and Harmonic Minor Scales
Prepared piece: etude or solo piece that shows your level of performance (not to exceed 3 minutes) 
Excerpts: Orchestral excerpts provided below
Audition materials for string instruments
---
FAQs
When are auditions?
Auditions take place during the first week of the fall semester. Contact the director for spring auditions. 
When is the first rehearsal?
Because Auditions take place during the first week of classes and the faculty will need to staff small groups and choose repertoire, the actual first rehearsals will take place beginning the 3rd week of class (this is a change from previous years due to COVID-19). 
Health and safety protocols have been established based on the most current musician aerosol studies coming out of the University of Colorado at Boulder and data will be shared with students. Such data covers:
Specialized masks for playing (to be provided)

Bell covers (to be provided)

Appropriate distance between musicians

Appropriate maximum contact time in rehearsal and room clearing between groups for air transfer

Building entrance and egress protocols
Department of Music COVID-19 Information
How do I register for the course?
Request course permission in the Student Information System (SIS).
Course permission will be granted after an audition is completed during the first week of class.
Once you are "granted permission" you need to go back into SIS and complete your registration. Students must officially register to participate in the ensemble. 
What is the difference between registering for 0.0, 0.5, or 1.00 credit units?
Most academic ensembles (MUEN) are offered at variable credit to allow students the choice based on total credit load and personal preference. Music majors should check their academic requirements before selecting the credit amount. 
Are instruments available?
Specialty and large instruments are available on a limited basis for use by those enrolled in our academic ensembles.
Where are practice rooms?
Practice rooms are available in the Denison Hall Complex (@Wade Commons) during posted open hours on a first-come, first-served basis. During Orientation week Denison Hall operates with extended hours from 8 AM - 10 PM.  Once the Drop/Add period is over the building will be open from 8 AM - 5 PM and you will need to use your Student ID to get into the building.
Is instrument storage available?
Lockers are available for music majors, minors, and non-majors who participate in an academic ensemble. Please note, due to the busy start of term, it may take us a bit to respond to all requests and we ask for your patience.

Facilities Policies and Locker Information
When does this ensemble perform?
The performance schedule and syllabus will be distributed during auditions and the first week of class. For the 2020-21 academic year we will be broadcasting our performances that will include both our in-person and remote chamber groups.
---
Registration via SIS
Director:
Dr. Kathleen Horvath
MUEN 385-100: Case/University Circle Symphony Orchestra
MoWe 7:00-8:30 PM (Wade Rehearsal Hall)
0-1 units
MUEN 385-101: Case/University Circle Symphony Orchestra
TBA (Location: TBA)
0-1 units
This section is for students rotating between both Symphonic Winds and Symphony Orchestra. This section should only be used when directed to do so by the ensemble instructor.