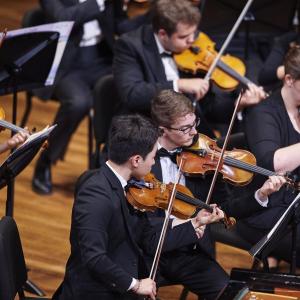 April 21, 2020 - 7:00 pm
Location: Denison Hall, Spartan Rehearsal Hall (1650 East 115th St)
A collaborative concert featuring the Jazz Ensembles and the Case Western Reserve University Camerata Chamber Orchestra. This event will be held in the newly constructed Spartan Rehearsal Hall in the Denison Hall Facility. Free and open to the public.
Metered Lots and Public Parking Garages
The most current information about University Circle parking can be found at Uptown Cleveland and University Circle.
Uptown North Parking Lot: This is a ticketed surface lot with entrances off of Ford Drive and E 115th St.
NRV Lot 46: This is a surface with entrances off of 118th, with pay via machines or ParkMobile
Jazz Ensembles
View the page for Jazz Ensemble I.
View the page for Jazz Ensemble II.
The CWRU Jazz Ensembles, under the direction of Paul Ferguson, consist of two groups, Jazz I and Jazz II. Both follow standard big-band instrumentation, and play both traditional and modern jazz repertoire, with an emphasis on individual improvisation.
Camerata Chamber Orchestra
View the page for the Camerata Chamber Orchestra.
The Case Camerata Chamber Orchestra (MUEN 386) is open to all CWRU students, faculty, and community members by audition who play string instruments and desire to perform in a flexible but very high quality string instrumental music setting. The repertoire performed in this ensemble is wide ranging and drawn from a variety of smaller chamber genres that include pieces from the baroque, classical, romantic and contemporary stylistic periods.  Some of the pieces are conducted and others are rehearsed collaboratively by the group with coaching from the director. The group collectively decides the program and many pieces use soloists from within the group.  Additionally, there are opportunities for this group to collaborate with other ensembles in the Music Department including the Case Chorale, the Case University Circle Symphony Orchestra, and others.