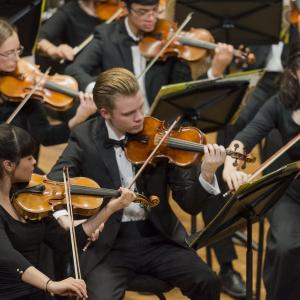 March 01, 2020 - 3:00 pm
Neo-Classical Innovations
Location: Maltz Performing Arts Center, Silver Hall
A program of works by Felix Mendelssohn featuring Concerto Competition winner Brian Liu in a performance of the Piano Concerto No. 1 in G minor, Op. 25, as well as the Athalie Overture, Op. 74 and Symphony No. 5: Reformation, Op. 107.
This performance is part of the Maltz Performing Arts Center, Silver Hall Concert Series. These events are free, but registration is required. Reserve your tickets here. Parking passes may be purchased in advance for each performance for a nominal amount. Paid parking available upon arrival in the MPAC lot.
Shuttle service provided for this event. Shuttles depart from the Tinkham Veale University Center Linsalata Entrance (Bellflower Rd.) and Denison Hall (1650 E. 115th St.). Return shuttles depart from the MPAC at the conclusion of the event.
Symphony Orchestra
View the Symphony Orchestra page.
The Case/University Circle Symphony Orchestra (MUEN 385) is open to all Case Western Reserve University students, faculty, and community members by audition who play a woodwind, brass, percussion or string instruments and who desire to perform in a high level ensemble.  The group rehearses twice per week for a total of 90 minutes and performs 5 to 7 concerts per academic year.  The repertoire is drawn from standard orchestral literature comprised of symphonies, overtures, suites, etc.  as well as other more contemporary genres such a Rock and Jazz.  The ensemble also works in collaboration with the Case Concert Choir, Case Jazz ensembles, and other University Circle affiliated groups.
Camerata Chamber Orchestra
View the Camerata Chamber Orchestra page.
The Case Camerata Chamber Orchestra (MUEN 386) is open to all CWRU students, faculty, and community members by audition who play string instruments and desire to perform in a flexible but very high quality string instrumental music setting. The repertoire performed in this ensemble is wide ranging and drawn from a variety of smaller chamber genres that include pieces from the baroque, classical, romantic and contemporary stylistic periods.  Some of the pieces are conducted and others are rehearsed collaboratively by the group with coaching from the director. The group collectively decides the program and many pieces use soloists from within the group.  Additionally, there are opportunities for this group to collaborate with other ensembles in the Music Department including the Case Chorale, the Case University Circle Symphony Orchestra, and others.