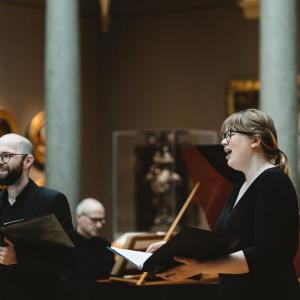 March 29, 2020 - 4:00 pm
Scheidt, Schein, Schütz and Schnitzel
Location: Harkness Chapel
Collegium's Renaissance string and wind ensembles and the Early Music Singers once again team up to present an array of sacred and secular music from 16th- and early 17th-century Germany.
Free and open to the public. Paid parking available in the Ford Avenue garage, Severance Hall garage or at the meters along Bellflower Road and East Blvd.
More information on Harkness Chapel and directions
Collegium Musicum
The Collegium welcomes interested wind and string players from CIM and Case, offering the opportunity to get to know a vast repertoire and unique style of music using period instruments. They perform on replicas of period instruments (shawms, sackbuts, recorders, renaissance flute, vielle, rebec, selected percussion, etc) from the Kulas Collection that are available for student use. Participation in Collegium Musicum is open to Case Western Reserve University/CIM students and requires an audition for membership.
View the Early Music Singers page.
Early Music Singers were founded in 1978 by Beverly Simmons as part of CWRU's nationally renowned Historical Performance Practice program. Since 2016, the group has been directed by Dr. Elena Mullins. Repertoire ranges from medieval chant to Renaissance madrigals and masses and occasionally to baroque operas and oratorios. The group varies in size but is usually about 16-22 singers. The personnel includes undergraduate and graduate students (of voice, composition, musicology, mathematics, computer science, engineering, and business), as well as other individuals associated with CWRU, including a cardiologist and a clinical researcher. All of them love making music in a small choral setting.