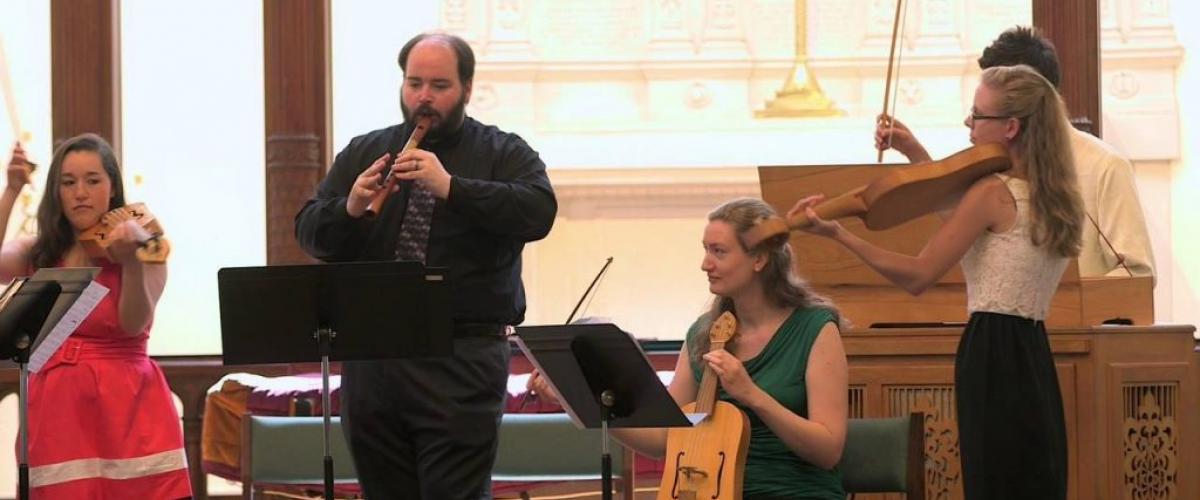 Director
Dr. Allison Monroe
Rehearsal Day/Time
Tu W 4:00-5:15 PM
Rehearsal Location
Harkness Chapel (Tu) & Haydn Hall 19 (W)
Participation Information
Requires audition. Please email director.
The Collegium Musicum is an ensemble for Case Western Reserve University and CIM students that specializes in performing late Medieval and Renaissance instrumental music. The Collegium rehearses twice a week from 4:00-5:15 PM on Tuesday (Harkness Chapel) and Wednesday (Haydn Hall, 19) and generally performs once or twice a semester; alone and with Case's Early Music Singers. Future projects include an Internet2 exchange with the Collegium from Indiana University, as well as performance opportunities at the Cleveland Art Museum.
The Collegium welcomes interested wind and string players from CIM and Case, offering the opportunity to get to know a vast repertoire and unique style of music using period instruments.
We perform on replicas of period instruments (shawms, sackbuts, recorders, renaissance flute, vielle, rebec, selected percussion, etc) from the Kulas Collection that are available for student use.