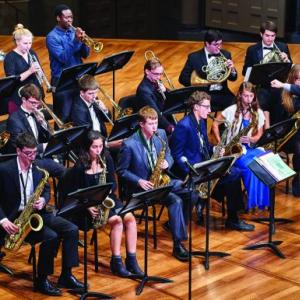 February 27, 2020 - 7:30 pm
Location: Harkness Chapel
The Case Western Reserve University Jazz Ensembles are joined by guest artist Dave Morgan, bassist and composer.
Free and open to the public. Paid parking available in the Ford Avenue garage, Severance Hall garage or at the meters along Bellflower Road and East Blvd.
More information on Harkness Chapel and directions
Jazz Ensembles
View the Jazz Ensemble I page.
View the Jazz Ensemble II page.
The CWRU Jazz Ensembles, under the direction of Paul Ferguson, consist of two groups, Jazz I and Jazz II. Both follow standard big-band instrumentation, and play both traditional and modern jazz repertoire, with an emphasis on individual improvisation.