Case Western Reserve University and Kenya Medical Training College Collaboration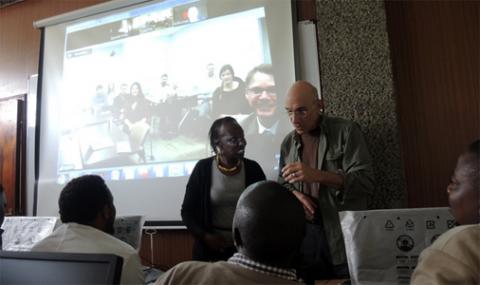 CWRU MSA Program (Washington, DC) and Kenya Medical Training College, or KMTC, (Nairobi, Kenya) delivered a combined web conference of case presentations for trauma anesthesia. The motivation is to share the varied clinical approaches that lead to improved patient outcomes.  In 2015 these two programs started to collaborate (started by Dr. Quentin Fisher and Dr. Gicheru) and this is a natural next step in continuing to strengthen the relationship. KMTC's case presentation was a neurology procedure, focusing on ACLS in the prone position. CWRU presented a gunshot wound case focusing on fluid resuscitation. Both programs asked excellent questions and gained valuable knowledge from the topics. This is an exciting and new experience due to technological advances that will benefit both programs to gain problem-solving techniques and broaden their knowledge of how other hospitals and countries perform anesthesia.
Erin Van Winkle, SAA II
CWRU DC MSA
MSA Students Making a Difference
In 2009, there were roughly 59 medically trained anesthesiologists in Kenya for a population of 35 million. In efforts to accommodate for the limited number of anesthesiologists, the Kenyan government created an 18-month training program for independent mid-level anesthesia providers, or Clinical Officers, and supported initiatives to pay for their training.
In order to improve global outcomes in anesthesia, Case Western Reserve University's Masters of Science in Anesthesia program has coordinated an endeavor to teach anesthesia to Clinical Officers at the Kenya Medical Training College (KMTC). Sabena Kachwalla, CAA and Clinical Instructor, joined Dr. Quentin Fisher, M.D. and Adjunct Assistant Professor (Anesthesiology and Perioperative Medicine) in Nairobi.
"With Dr. Fisher I had the privileged opportunity to teach anesthesia to the Clinical Officers. I gave lectures on trauma, neuro, blood-gas interpretation, difficult airways, burns, geriatrics, safety in the O.R., endocrine disorders, and O.B. emergencies," said Kachwalla. "We certified the Clinical Officers in Basic Life Support and gave a condensed course in Advanced Cardiac Life Support".
In the United States, mid-level anesthesia providers almost always practice under the guidance of an anesthesiologist, who has completed four years of medical school and four additional years in an anesthesia residency program. The Clinical Officers work independently, without the guidance and support of anesthesiologists, and have a lot of information and clinical skills to learn in just 18 months. The CWRU-KMTC collaboration is a step in the right direction.
"We hope to continue this educational collaboration between our program and the Clinical Officers at KMTC in order to improve the safety and outcomes in anesthesia in Kenya," said Kachwalla.
Accomplishments
As one of the founding educational programs of the Certified Anesthesiologist Assistant (CAA) profession, Case Western Reserve University's Master of Science in Anesthesia (MSA) Program has had a long and storied tradition of excellence. Our students continually rise to the highest level of educational acumen,  and our graduates have blazed new frontiers and played integral roles in all aspects of professional expansion.
Shattering boundaries while remaining grounded in the vision of our anesthesiologist founders, has been the course of the Master of Science in Anesthesia Program at Case Western Reserve. Through focusing on student empowerment, the program encourages innovation and clinical excellence by fostering a culture of thinking beyond the possible. Nowhere is this more evident than in the long list of accomplishments of our graduates.
The first CAA ever appointed to a committee of the American Society of Anesthesiologists was a CWRU graduate
Four of the past seven Presidents of the American Academy of Anesthesiologist Assistants (AAAA) have been CWRU graduates
The first AAAA representative to the Anesthesia Patient Safety Foundation (APSF) was a CWRU graduate
The youngest President of the AAAA was a CWRU graduate
The first CAA ever nominated to the American Society of Anesthesiologists Political Action Committee (ASAPAC) is a CWRU graduate
The first CAA nominated to the American Society of Anesthesiologists Political Action Committee (ASAPAC) is a CWRU graduate
The first AAAA state component academy was organized by CWRU graduates