Videoconference Planning
There are many facets to videoconference planning. The method that you select for your videoconference will depend heavily on what videoconference technology you have readily available to you, the technology being used at the sites being invited to the videoconference, and the number of participating sites.
1. With which site(s) are you videoconferencing?
You can videoconference with people who are across campus, across Cleveland, across the United States and around the globe. Our high speed network lets us connect to distant locations with high quality video and audio. Members of our campus regularly communicate with videoconference sites in Brisbane and Melbourne, Australia, and Oslo, Norway. We also arrange videoconference meetings with groups in separate buildings on the CWRU campus. 
Are you connecting to one other videoconference location or several other locations?
CWRU's videoconference technology allows up to 20 videoconference units to be connected by calling a single videoconference number, called a bridge. A bridge must be scheduled - Email help@case.edu for assistance.
If you are connecting to just one other location, you can call that site directly or that site can call you at the number or address designated for your room or desktop software.
Technology Compatibility Matrix
You may also need to reserve a bridge when connecting to one other location if that location uses a different type of videoconference technology.
There are three types of videoconferencing technology in existence: IP, SIP and web-based. IP videoconference units use IP addresses to call each other. SIP units use conventional phone numbers to call each other. Web-based systems do not work across platforms. SIP and IP units can call each other using a special interoperability bridge. To determine if your videoconferencing technology can call another technology directly, or if it needs a bridge, use the matrix below.
Please note: this matrix pertains only to videoconference calls between two sites. Any call involving three or more sites requires a bridge. To request a bridge, Email help@case.edu for assistance.
| | | |
| --- | --- | --- |
| D = Direct Connection | B = Bridge Required | X = Not Compatible |
 
Connecting To:
 
 
 
 
 
 
 
 
 
Scopia Desktop
Scopia Room XT5000
Polycom
Lifesize
Mondopad
Cisco Tandberg
Jabber
Cisco Telepresence
Adobe Connect
Google Hangouts
Scopia Desktop
D
D
D
D
B
D
B
B
X
X
Scopia Room XT5000
D
D
D
D
B
D
B
B
X
X
Polycom
D
D
D
D
B
D
B
B
X
X
Lifesize
D
D
D
D
B
D
B
B
X
X
Mondopad
B
B
B
B
B
B
B
B
X
X
Cisco Tandberg
D
D
D
D
B
D
B
B
X
X
Jabber
B
B
B
B
B
B
D
D
X
X
Cisco Telepresence
B
B
B
B
B
B
D
D
X
X
Adobe Connect
X
X
X
X
X
X
X
X
D
X
Google Hangouts
X
X
X
X
X
X
X
X
X
D
2. When will your videoconference take place?
Work with the participating videoconference locations to determine a mutually agreeable time for your videoconference. If necessary, take time zones of participating locations into consideration. UTech Videoconference Services can accommodate most requests for videoconference assistance both during and after normal business hours.
3. Where will your videoconference take place: on your desktop or in a videoconference room?
To choose your on-campus location, first think about how many other people from the campus will be participating in the videoconference with you. If you're the only person attending on campus, you can use desktop software to connect. If one other person is attending with you, you can request a videoconference room that comfortably seats two or more people.
Deciding on a location: what type of meeting are you having?
Sometimes, it's best to choose your meeting's location based available functionality and design. Your videoconference location can be a department-managed videoconference room, the Active Collaboration Room (ACR), or a desktop software option. Here are a few recommendations based on common meeting scenarios.
Use
Room
ACR
Jabber
Google Hangout
Adobe Connect
 
Rooms
Desktop Software
Class or meeting of 5 or more people
X
X
 
 
 
Meeting of 2 to 5 people
X
X
 
 
 
Meeting 1 to1
X
 
X

X

X
Online office hours
 
 
X
X
X
Ad hoc meeting
 
 
X
X
X
Class to class
X
X
 
 
 
Meeting with another person/location on campus
X
X
X
X
X
Deciding on a location: do you have a meeting room with videoconference technology available to you?
Most videoconference-enabled rooms on campus are managed by a department. If your department has its own videoconference equipment, you can use it to call any other videoconference site in the world (directly or using an interoperability bridge, Email help@case.edu for assistance).
If your department doesn't have its own videoconference equipment, you have a few options:
Use Adobe Connect, Google Hangouts or obtain desktop videoconference software.
Request the use of another department's videoconference room. See the Rooms list for options and contact information. Rooms are loaned at each department's discretion.
Purchase videoconference equipment for your department. UTech can assist by recommending videoconference equipment. Email help@case.edu for assistance.
Jabber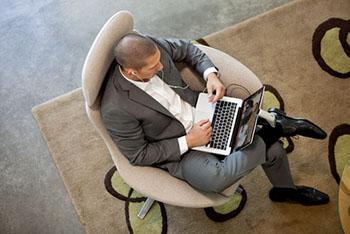 Cisco Jabber Video is a desktop TelePresence client that enables individuals with a webcam to participate in TelePresence meetings from their Macintosh or Windows computer. Students can download the public version of the Cisco Jabber client for free at Cisco.
Jabber can easily connect with other Jabber users and TelePresence technology, such as Cisco TelePresence Sites (CTS). To dial another Jabber user, enter their user name followed by @case.edu (faculty and staff) or @jabber.com (students). To call a CWRU bridge or videoconference site, enter a ten digit number followed by @, e.g., 216.754.2102@case.edu.
To communicate with videoconferencing endpoints that use IP addresses, such as Scopia users and Polycom, Lifesize, Scopia Room and Tandberg units, the Jabber user and other participating endpoints must be able to dial a special bridge number that can be reached by both TelePresence and IP numbers (e.g., 192.5.109.51 and 1.216.754.2102). Email help@case.edu for assistance.
Adobe Connect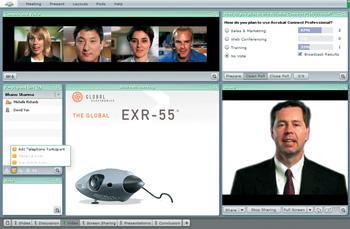 Adobe Connect is a fully web-based videoconference technology. Users of Adobe Connect create reusable meeting rooms where they can hold audio and/or video conferences. Meeting rooms come with "pods" that include a whiteboard, file sharing, presentations, text chat, polling, and more. All CWRU community members can create meeting rooms and use Adobe Connect by going to connect.case.edu and logging in to the system with their CWRU Network IDs and passwords.
For more information and training materials, go to the Adobe Connect page.
Google Hangouts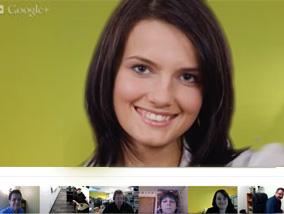 Google Hangouts enable up to 10 Google users to join a web-based video chat room. Hangouts can be started using the Hangout button in the Chat gadget in webmail.case.edu or within Google+. Hangouts also can be created in Google Calendar events. Invite anyone with a CWRU or Google account to your Hangout by sharing its URL.
For more information on how to use Google Hangouts, see Google's Hangout Help page
4. Send these details to Videoconference Services through help@case.edu
If you need assistance or to reserve a bridge number, Email help@case.edu for assistance. If you are already familiar with videoconferencing, or do not require a bridge, you can work with the participating locations to schedule the conference on your own. See the FAQ for more details.
To create a meeting room in which to hold an Adobe Connect web conference, go to connect.case.edu. Directions for use are available here.
To create a Google Hangout, create an account in Google+ and use the Hangouts feature or open webmail.case.edu and click the Start Hangout button in the chat gadget.